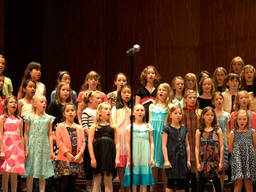 Bring your children's singing talent to the next level!
Joining singing schools for kids will strengthen your children's vocal ability. Your kids will enjoy meeting other singers and will also benefit from being trained under experienced vocal coaches. The first Australian music camp was arranged by the National Fitness Council and the Victorian School Music Association, held at Point Lonsdale, Victoria, in 1948.
Category: Performing Arts
Approximate age to start joining singing schools: 3
Approximate price: $40-50/session
Gear/equipment needed and approximate price range: tuning fork, piano (optional)
This activity comprises of: singing, performing, learning to play musical instruments
School holiday programs available:YES
A video of Singing schools for kids
A young girl taking voice lessons at her local singing school.
Information on Singing Schools fo Kids
Are singing schools for your kid(s)?
Singing at home can be a fun pastime, but if you truly want to take your kids' singing ability to the professional stage, you can let them join singing classes and lessons for kids.
Singing schools can assign many activities for kids that can help your child the best singer that he can be. Singing requires your child to have a sharp ear for pitch and tone and so it's difficult to learn on your own without constant help from a music teacher. Singing classes can be by group or one-on-one.
Singing schools for kids have many benefits including:
Getting help with difficult techniques
There are many vocal techniques that children may not be able to perfect without the help of a music teacher. Joining singing schools can help kids be more adept with difficult techniques and help them expand their vocal range.
Some vocal techniques that children can have difficulty learning include doing a vibrato, harmonizing, reaching high and low notes, singing from the diaphragm and singing in falsetto. Teachers can give vocalising exercises that can help children reach notes they never thought they could sing.
Great summer music camp option
Singing schools usually offer summer music camps for kids. Summer music camps are worthwhile and educational kids activities for the summer holidays. Your kids will enjoy learning performing arts as an additional way of expressing themselves.
Connect with other singers
Singing schools will help let your kids meet other aspiring singers. Singing with friends is good especially if your child is the type who prefers singing in groups rather than singing solo. There are also kinds of voices that are better for group singing rather than solo singing.
Music therapy for kids
Music is a good way to help release stress for children and it is also a good way to pump up shy kids.
Give kids chances to perform live
One of the most important advantages of joining singing schools for kids is that it provides a venue for your children to perform on stage. Singing schools regularly hold recitals where children can gain experience performing live, helping them develop their confidence and stage presence.
Get your kids to start joining singing schools!
Toddlers can begin joining singing schools starting age 3. Singing schools are typically for all kinds of children, especially those who love performing. Singing classes and lessons for kids can cost at around $40-$50 per session.
You can let your kids try singing music for children first before letting them try singing more complex adult pieces. Letting kids sing songs that are appropriate to their age group can also help motivate them to practice harder. Popular children's music in Australia includes "Waltzing Matilda" and "I Still Call Australia Home."
Providing musical instruments for kids will let your children have more fun singing and performing. Keyboards and guitars are usually good instruments for beginners and they also allow your kids to sing while playing.
There are many singing schools for kids in Australia. Browse through the ActiveActivities Directory to learn more.
Enrol kids in a singing school now!
Articles related to your search: