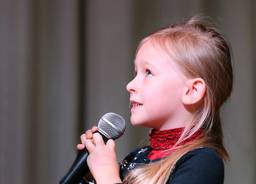 Singing is more than something musical that you can do or not do! We can all sing - yes, even you! Singing as part of a community choir for kids helps your child in so many ways.

There are many benefits to singing!

Most students will tell you that their favourite feeling is when they are purely having fun, however here are a few more reasons to introduce them to singing classes.
1. Social Benefits:
Singing can help your child to make new friends. The bond that they create during singing classes can be profound. Singing helps boost their confidence. By being part of a group of singers they can start to feel more comfortable with singing.
2. Mental and Emotional Benefits:
Singing is a natural anti-depressant - it releases endorphins which will help your child to feel happy! Singing is relaxing and actually a form of meditation! Singing improves alertness in all ages, helping kids to keep more focused at school.
3. Physical Benefits:
Singing strengthens the immune system - it's Winter now - encourage your child to SING to keep the colds away!
Singing improves posture - are they standing up tall yet? Singing will help your child's posture and their breathing.
For more information about singing, please contact the expert contributor.
Articles related to your search: