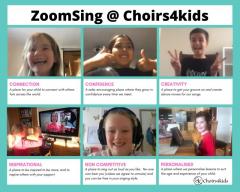 With the world in lockdown and many children and young people not being allowed to sing in groups right now, we have experienced how difficult it is first hand. In February 2020, Our singers who used to love connecting weekly in their singing class were suddenly isolated, disengaged, angry, sad ……and so much more.
Fast forward 12 months and having stuck to a business model where we only sing online, we have found a whole new world of singers. Children who were too far away from a local choir, children who were too shy to sing in front of others, children who feared group activities, children who can't sing at school, children who are home-schooled and so the list goes on.

Suddenly we found ourselves able to offer so much more.
Zoomsing is a place where children and young people connect weekly. They are guided through voice training, taught a new song or aspect of a song, and encouraged to share their voice with others if they wish. This new way of teaching and learning for singing, means that the students actually get more access to the teacher. Individual attention can be given to the voice and feedback can be acted on straight away.
But Zoomsing also gives more than this. Voice training is one aspect. Connecting, building confidence, lifting spirits and energy is what we value highly. Each week these students learn other things away from songs. They learn a little geography (we have singers in 10 countries so far!), they learn traditions (Christmas differences around the world), they learn the latest songs, they learn about the weather, they learn about different activities, they learn most importantly that they are not the only ones in this situation. They are accepted and safe.
Articles related to your search: