Surf Lifesaving Clubs for Kids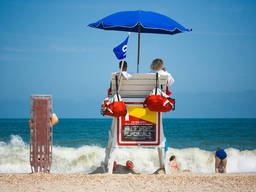 Get fit, make friends and learn valuable water safety skills at a life saving club!
Kids' lifesaving activities are beach sports and activities for kids usually run by a surf life saving club. As well as teaching kids to be life savers, they also involve beach and water sports like:
Beach volley ball
Surfing
Swimming
Beach races (sprint, relay…)
Flags
Surf Ski
Dragon boats and many more…
Let your kids have fun on the beach this summer!
A video of Surf Lifesaving Clubs for Kids
Lifesaving clubs include many water based activities, surfing being one of the most important ones.
Information on Surf Lifesaving Clubs for Kids in Australia
Will Your Kids Enjoy Lifesaving Activities?
Do your kids love the outdoors? Do they want to improve their swimming skills or get involved in surfing or beach sports? Lifesaving club activities might be great for them!
Here are some benefits:
Improved knowledge of the sea and awareness of currents, drag, waves, tide and weather conditions which could help your child stay safer on the beach
Increased levels of fitness and swimming ability
Joining a lifesaving club means a chance to make new friends and be part of a community
The opportunity to participate in training programs for water rescue skills that could lead to a future career as a lifesaver
Is your child nervous in the water, swimming in the sea or a bit reluctant to get onto a surf board? Surf lifesaving club activities could help them to build up their confidence, but if they really aren't keen they might be more suited to a sport based on dry land. Make sure your child has plenty of sunscreen before going on the beach and appropriate swimming clothing including a hat and rash vest (or lifesaver shirt if appropriate). In winter when the water temperature is very cold, a wetsuit could be advisable.
How Do You Organise Lifesaving Activities for Your Kids?
Lifesaving club activities are most commonly held on the beach but they can also be conducted in a swimming pool. The ActiveActivities Directory provides details of your local surf lifesaving clubs and details of classes and programs. "Nippers Clubs" is one of the most popular lifesaving club programs for young kids and it teaches kids basic water safety and beach skills as well as playing lots of games and water sports. Most equipment including surfboards are initially provided by lifesaving clubs.
Many lifesaving club programs are used in schools to help promote water safety and this can be a great way for kids to start. Other beach based kids activities include swimming and mini triathlon events.
With a bit of practise, your child can hopefully be a confident swimmer. They may even save a life one day!
Articles related to your search: