surf life saving clubs for kids in South Australia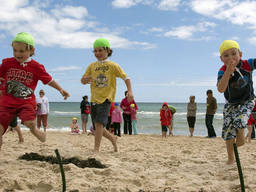 Beaches in Australia are some of the best surf beaches in the world. The rolling waves and white beaches are two of the things that best define Australia. Surf Life Saving Clubs are volunteer organisations in the beaches of Australia that conduct lifeguard services and competitive water sport. Surf life saving clubs for also host many kids activities like water sports for kids programs and surf carnivals. Do your kids love the beaches in South Australia? Ensure that they have a great and meaningful time at the beach by joining surf life saving clubs!
A video of surf life saving clubs for kids in South Australia
Take a look at this video to get to know more about joining the junior surf lifesavers. See how much fun they're having while learning a lot of important things about surf safety and responsibility.
Information on Surf Life Saving Clubs for kids in South Australia
Why joining surf life saving clubs in South Australia is a great activity for your kids?
Surf life saving courses are offered to kids who sign up for surf life saving clubs. They receive surf rescue training that trains them to become competent swimmers, as well as to become knowledgeable in rescue, resuscitation, and first aid. The surf carnivals the surf life saving clubs host involve clubs competing with each other in a range of beach and rescue-oriented events including swimming, surf ski, and surf boat races.
Surf life saving clubs teaches kids to become confident in the water by having them join in activities that require them to swim on the water and run on the beach. They will also gain awareness of important safety issues at the beach. At five years old, your kids can already join surf life saving clubs in South Australia (other states accept kids starting seven years old). By the age 13, they can already receive their surf life saving certificate. The surf life saving clubs in SA is divided into three age groups.
Junior Surf Life Saving
The junior lifesavers, or nippers, are kids aged 5 to 13 years. The programs for the juniors have emphasis on fun and participation. They provide activities that focus on a growing kid's confidence, knowledge, and skills in the beach. The programs teach kids in these aspects: personal safety, sun safety, surf safety and patrol, surf environment, rescue and first aid, surfing and swimming skills, and fun beach games.
Surf Recue Certificate
When your kids advance to this level (for kids aged 13 to 15), they become an active surf lifesaver and start their cadetship to becoming a certified surf lifesaver. Training programs include teaching various rescue techniques.
Active Members
For kids 15 years old and above, this level serves as the pathway to earning the Surf Life Saving Australia Bronze Medallion. Other awards they can also receive are Advanced Resuscitation, Radio Operators, and First Aid awards. The active members' duties include beach patrolling.
Get your kids to start joining surf life saving clubs!
There are 18 surf life saving clubs in South Australia. See the complete list in our ActiveActivities Directory.
While surf life saving clubs control all surf beaches in Australia, the bays, inlets, rivers, and pools are controlled by the Royal Life Saving Society. The society focuses on water safety education and rescue training for inland areas among school children. The Royal Life Saving Society is actually the largest provider of water safety education in Australia.
Being part of surf life saving clubs can the best way for kids to enjoy the beach in a safe environment. These clubs will help them develop a sense of responsibility and maturity. Not only that, they also will get to experience the best summer ever – with lots of fun kids activities and new friends!
Articles related to your search: