Surf Life Saving Clubs for Kids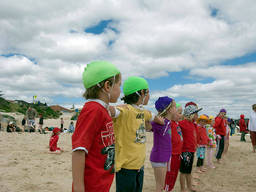 The nippers doing some surf life saving drills.
Being surrounded by water and beautiful beaches, the most common pastime in Australia is hanging out at the beaches, and engaging in beach sport like swimming and surfing. Parents wouldn't always be there to watch their children play. The best way to develop self-responsibility and social responsibility in them when on the beach is to make them join surf life saving clubs for kids. Australian life saving help transform simple pastimes and other activities for kids like surfing into something productive and meaningful. That's what every parent wants for their kids, right?
A video of Surf Life Saving Clubs for Kids
Joining the nippers is the best way for your kids to enjoy the beach in a safe and fun environment. Aside from learning the basics of surf life saving, the nippers also participate in exciting activities like water sports and competitions.
Information on Surf Life Saving Clubs For Kids
Are surf life saving clubs for your kids?
Surf life saving Australia is the surf life saving, water safety, drowning prevention, and rescue authority in Australia. Its mission is to provide a safe beach environment throughout the country by patrolling beaches, education, and training. Surf life saving clubs are volunteer organisations that deliver rescue services and competitive surf sport. Aside from surf life saving training and beach sports, the surf life saving clubs for kids also host kids activities like surf carnivals that involve beach and life saving-oriented events like surf life saving competitions.
The benefits of joining surf life saving clubs are not only the development of responsibility and awareness of safety issues in your kids, but also confidence in the water, as well as enjoyment with old and new friends. Surf life saving protects life, saves life, and promotes life. The surf life saving clubs in Australia have surf clubs for different age groups, starting 5 years old.
Nipper Club
The nippers are the surf life savers of tomorrow. The nipper club is open to kids ages 5 to 13. Too young to do actual life saving duties, nipper programs focus on educating the members with basic surf safety skills and an understanding of the surf environment. Nippers also get to participate in fun activities that help develop skills like running, swimming, and surfing.
Junior Surf Life Savers
The nipper club serves as a pathway to the juniors program, for 13 to 15 year old kids. The junior surf life savers are taught the different rescue techniques and earn certificates such as the Bronze Medallion, which will make them become certified surf life savers.
Active members above age 15 can already participate in surf life saving competitions such as the Ironman events, involving elements of surf swimming, board riding, running, mock rescues, and paddling.
There are more than 300 surf life saving clubs in Australia. Look them up in our ActiveActivities Directory and find out which are the ones nearest you. You can also check our directory for more fun tips and ideas for fun activities for your active babies, toddlers, and teens.
Surf life saving is a lifestyle that promotes positive attitudes in your children as well as confidence, knowledge, and skills in the beach environment. Keep your kids safe in the beach by getting them to join surf life saving clubs!
Articles related to your search: