Performing Arts Workshop For Kids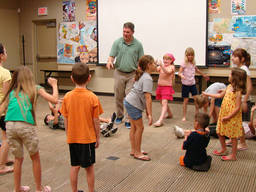 It is natural for kids to enjoy being the centre of attention. As young as 3 years old, you can get them to attend performing arts workshops to nurture their talent in the arts. The workshops will develop skills in them that are applicable in most of the situations they will encounter in life.
A video of Performing Arts Workshop For Kids
Students of the Australian Theatre for Young People actively participating their singing and dancing exercises. Kids who are exposed to activities like this will develop a higher self-esteem and a better personality.
information on Performing Arts Workshop For Kids
Performing Arts Workshop for Kids
Do your kids love to be under the spotlight? Then enhance their talents by sending them to a performing arts workshop! Performing arts include dance, music, opera, and theatre. In the 21st century, performing arts is not only performed on stage but also on television and cinemas through TV shows and movies. If you notice that your kids are active in kids activities that involve singing and dancing, or even talking in front of their class, they might have potential to be performing artists someday.
Are performing arts workshops for your kids?
Enrolling your kids in a performing arts workshop will teach them skills that they can apply in many ways. Here are some benefits they can obtain from performing arts education :
Creative Expression
It is natural for kids to love role playing and dress up games. Through the performing arts they are able to portray different roles. Performing arts workshops involve activities for kids that allow them to be creative and imaginative, thus activating their imagination and thinking skills.
Discipline
All forms of art require self-discipline. Kids have to learn to listen to their instructors and also learn to behave properly without being told to do so.
Self-Confidence
Encouraging your kids to pursue what they love to do will help them gain confidence. Knowing that they have freedom to express themselves will inspire them to explore their abilities more.
Teamwork
Activities in performing arts workshops are often done in groups. Such activities teach kids the value of teamwork and leadership.
Fun and Education
Not only do kids get to have fun and do what they love, they also learn new things at the same time.
Get your kids to go to a performing arts workshop!
Australia is one of the prominent countries that offer performing arts education. The most renowned in Australia being NIDA: Australia's National Institute of Dramatic Arts. The ActiveActivities Directory provides comprehensive details of Performing Arts Schools and resources for kids. You will find information provided on theatre workshops, acting workshops, singing workshops, and dancing workshops that kids can join as young as 3. If your kids are not the performing art type but still show some artistic abilities, you can get them to attend visual arts workshop where they can learn drawing and painting.
Hone your kids' talents. They might also develop a passion for the performing arts in the future. Enrol them in a performing arts workshop!
Articles related to your search: