Articles related to your search:
Conducting for kids
We've all seen refined gentlemen acting as conductors of grand orchestras. But did you know kids lessons are available in music conducting? Learning to conduct is a great exercise for kids which educates them about a range of things about music. It can also improve their brain function and social skills in ways that will benefits lots of other areas of their lives.
Read more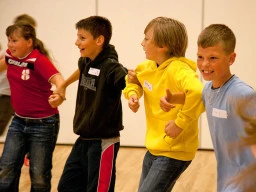 Drama classes & lessons for kids in Melbourne
Express your love for your kids' expressions! Drama originated from Greece where tragedy and comedy were popular. It is often combined with music and dance. Today, drama encompasses different mediums - from theatre to radio. Enroll them to drama classes & lessons for kids in Melbourne, and see your little superstar shine on and off stage!
Read more