How to choose the right dance school for your child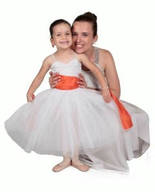 According to the Australia Bureau of Statistic dance is the largest growing activity for girls in Australia since 2006. So if you happen to have a budding dancer in your house then you are certainly not alone!

Choosing the right dance school to fit your child's interest, abilities and goals can be a crucial one. Make the right choice and you open your child up to a creative and healthy hobby that could be the start of a successful career. However, if you are not sure what to look for then a poor choice can be a real set back for a potential dancer.

The first thing to keep in mind is that in Australia, like many other countries, dance is an unregulated industry. This means that anyone is able to set up a dance school or classes without specialised training or tertiary qualifications. Some requirements such as a Working With Children Check (NSW) are now mandatory but you may be surprised to learn that not all dance teachers have this yet.
The good news is, you can set your child up for a positive and rewarding experience of dance by following a few simple steps.
1. Do your research
There are many dance schools to choose from so you can afford to be picky! Whether it's competitive, recreational or somewhere in between, be sure to look at the schools website, speak to the owners, check online reviews and ask on community Facebook pages for recommendations then write a short list of three schools.
2. Try before you buy
Ask to do a trial lesson at one or more schools you have short listed to ensure the dance style, teacher and school feel right for your child. Fully participating, not just observing, is a good way to see if it's a good fit.
3. Read the fine print
Ensure you are clear on the cost of lessons, uniforms and dance shoes as these can add up. Read the fine print as additional charges for performances, exams and competitions can double your original figure easily.
4. Support change
If your child is already in a dance school but you are not happy for whatever reason don't be afraid to make the change. Your child should be happy to go to the studio, show regular signs of improvement in dance skills/fitness and have some friends.
Taking the time to find the right dance school for your child will stand them in good stead for a life time of enjoying dance and all it's physical, mental and emotional benefits. So whether for fun or with a view to a rewarding career, follow the above steps and go for it!
For more tips on finding the right dance school for your child, please contact the expert contributor.
Articles related to your search: