BENEFITS OF DANCE FOR PRE SCHOOL CHILDREN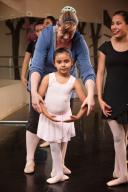 A Happy Feet Dancer (21/2 to 51/2 years) enjoys imagination, music, movement and role playing. But what you can't see is the real magic - the development of the child's kinaesthetic learning and cognitive skills. Children learn through feelings and begin to build their library of experiences through their senses and start to draw on those experiences to make decisions. "A healthy body, healthy mind" is a proven fact!
This is where dance has a very important place in the positive development of your child - dance will:
· help to develop Physical, Social, Emotional and Cognitive Awareness,
· assist in developing the tools to problem solve and express themselves;
· provide the confidence to be independent, self-sufficient, make critical decisions, be accountable
· assist your child to become more spatially aware and begin to form the foundations of bonding and friendship
· feel good which promotes wellbeing and positive self-esteem
· develop and help to understand rhythm, movement and expression as one, and your child will learn to link these seamlessly.
We are proud of the quality teaching we provide and we understand that it is a big step in your little one's life, so we make it easy for you.
We are more than delighted to welcome your little one to Happy Feet Ballet classes at any time throughout the year, we are also mothers and we have walked in your shoes.
Articles related to your search: