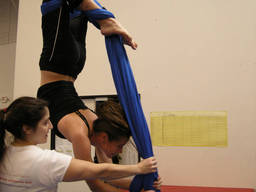 Kids learning some circus moves.
Give your kids a taste of the spectacular by sending them to a circus school!
Circus schools teach kids' circus tricks including juggling, acrobatics, magic tricks and trapeze skills. What a terrific way for your children to learn new skills to impress their friends!
A video of Circus Schools for Kids
Circus Schools are great for creativity, fun activities, fitness and making a bunch of very good friends! Be aware, it is not as easy as it seems! Entertaining people requires a lot of work and discipline… But the fun will definitely be there too!
Information on Circus Schools for Kids
Are circus schools for your kid(s)?
Do your kids love the circus? If they enjoy watching circus performers, they might love the opportunity to become a performer themselves! Training to be a clown, acrobat or magician can be lots of fun and a great way to make new friends.
Other benefits include:
Circus training can enhance kids' physical development. Swinging on a trapeze and performing acrobatics are great exercise and build strength and overall fitness.
Improved hand eye co-ordination. Juggling and practising magic tricks can help with fine motor skills and co-ordination, not to mention mental focus.
Increased confidence. Learning new skills to show off to friends and family can be a great confidence booster for kids.
Can give kids useful skills that transfer to other areas of their life. Learning how to make people laugh or developing improved mental focus can all be extremely useful in a number of different situations.
Circus lessons can usually start from 5 years of age and continue into adulthood. Some circus school kids activities may be unsuitable for very young children, but there will be plenty to keep them busy no matter what age. Many kids will enjoy dressing up in costumes and performing their newly learned skills in a marquee.
Get your kids to start circus school!
Circus schools are growing in popularity among kids and parents search the ActiveActivities Directoryy to find your local circus lessons. Circus workshops often run on weekends and during school holidays. Circus themed schools and circus camps can be a good form of entertainment for kids during the school holidays offering kids activities that are bound to keep them smiling! Cost for a day workshop is around $60.
No circus school in your area? How about other performing arts such as dance or theatre? If your children are into the acrobatic side of circus performing, they might enjoy gymnastics instead. Budding comedians might find clown schools more to their taste. Circus schools are a versatile and fun way for kids to keep fit and make new friends!
Articles related to your search: