5 reasons not to run away to the circus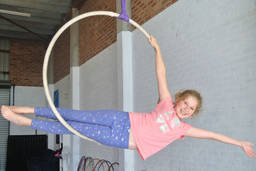 Hey kids – don't run away to the circus, just join your local circus school! Gone are the days when learning to juggle or fly through the air on a trapeze meant leaving your family behind to tour with a circus.

These days, most major cities and regional centres offer recreational circus classes as a great way to have fun, get fit and learn amazing new skills.

Why circus is the best sport you never knew you could learn:

1. Learn Awesome Skills
More than just clowns, circus includes a huge variety of incredible skills that are fun to learn and great party tricks to have up your sleeve. Many people have tried juggling, hooping or handstands, but may not have had the pleasure of trying trapeze, spinning plates, unicycling, aerial silks or others of the myriad skills that make up a circus. Learn a bit of everything, or focus on one unique skill – it's up to you! Check out this video for inspiration:
A video of 5 reasons not to run away to the circus
2. Improve coordination, balance, strength and flexibility
On top of the satisfaction in mastering exciting new skills, circus is a fun way for kids to improve coordination and basic motor skills like balancing, catching, hand eye coordination, strength, proprioception and flexibility. It's non-competitive, making it a great option even for kids who aren't particularly confident in their abilities to improve at their own pace. There are a wide variety of skills, each requiring different interests and abilities, so all our students are able to find something they like and can excel at.
3. Join A Community
There is no direct competition in circus classes, they are very community oriented with everyone supporting and motivating each other to get better. Our students make friends and form connections with people from a diverse range of ages and backgrounds, both in class and at events, workshops & festivals.
4. Learn Awareness of Surroundings
Contrary to stereotypes, circus is all about safety. Because we do a lot of things that could be dangerous if poorly executed, it's essential to have regular conversations about how to manage the risks. Instead of telling kids "no, don't do that", we teach them to identify and manage safety concerns so they can learn even the most difficult of tricks safely.
5. Rise to Challenges
Circus is a journey, with lots of small challenges and wins. Students learn to persist through frustration and work through their fears to develop confidence, self-control and intrinsic motivation. We give our students the skills they need to grow, explaining what they need to do to achieve great progress – and they rise to the challenge!
Think circus might suit you or your child? Please contact the expert contributor for more information.
Articles related to your search: