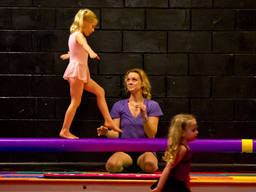 If your kids have interesting and endearing personalities and love to interact with people, they would love to learn the art of acting. Aside from being a good hobby, acting can also be your kids? stepping stone to success and stardom in Australia!
Category:Performing Arts
Approximate age to start acrobats for kids:8
Approximate price:$100
Gear/equipment needed and approximate price range: Rubber shoes, dancing clothes and theme costumes
This activity comprises of:flexibility exercises, physical fitness activities and dancing lessons
Best period of the year:Any time of the year, especially during summer vacation
Most appropriate region:Anywhere in Australia
School holiday programs available: YES
A video of Acrobats for kids
A group of young acrobats enjoying their dance routines
Information on acrobats for kids
Let your kids dance their way to the top!
Do your kids enjoy seeing acrobat performers swinging and dancing in mid-air? Are they fascinated by the sight of ballet dancers that perform astonishing dance moves and routines? If your answer is YES, acrobats for kids will most likely be best for them, as an extra-curricular activity or as a talent that they can pursue professionally. Read on and learn how your children can become amazing acrobats!
Is acrobatics kids for your kids?
Acrobatics is more than just the breathtaking stunts and movements that we see in live performances or on TV. The art of acrobatics combines the mastery of balance, agility and motor coordination to let dancers achieve incredible feats that leave your kids in awe. The good news is that toddlers and growing kids are very suitable to learn basic acrobatic dance steps and techniques. Many summer camps in Australia offer children courses and activities for kids, like dancing, gymnastics and aerobatics. All these fields require acrobatic elements and skills that your kids already possess. Aside from their inclination to learn things fast, kids are known to be more flexible and adaptive when it comes to dancing and other performances activities. In fact, most professional dancers claim to have started at a very young age. Most kids naturally love dancing, even infants who hear a danceable beat or tune. Acrobats for kids enhances your kids' innate talent for dancing, and turn that talent into something more meaningful, disciplined and enriching. Below are some of the fields of dancing that your kids may enter:
Acrobatic Dance Popularly known as acro-dance this dance combines classical dance techniques and acrobatic elements, including precision, balance and flexibility. Acro dance features contemporary style of choreography, lending it a mainstream appeal.
Circus Acrobatics: This kind of dance aims to amaze audience with its festive, elegant or whimsical production design, bolstered by the almost magical dance routines of acrobatic dancers. One good example is Cirque du Soleil, possibly the most famous circus acrobatic group that performs all around the world.
Aerial Acrobatics – Performers of this style dance in mid-air using aerial silk, trapeze, aerial hoop, rope and corde lisse.
Chinese Acrobatics - This acrobatic dance performance originated in China, based on early Chinese people's hunting experience and routine. The steps have been modernized to appeal to a global audience, from the East to the West!
Acrobatic Gymnastics This type of acrobatic discipline has been widely compared with acrobatic dance because of their similarities in style and appeal. It is usually performed by two people, combining music and graceful dance routines. You can also consider enrolling your kids in gymnastics if they take a liking to this type of acrobatics.
Get your kids to start acrobats for kids!
To get started, you should be able to find a suitable acrobatics or gymnastics organization that is dedicated in acrobatics for kids. An ideal club to join is one that offers classes for basic and advanced classes for gymnastics for kids, acrobats for kids, acrobatic dance, acting classes for kids and other related courses.
Visit our ActiveActivities directory for more tips on acrobats for kids in Australia, as well as other kids activities that involve active body movement.
So you think your kids can dance? Have them try acrobats for kids!