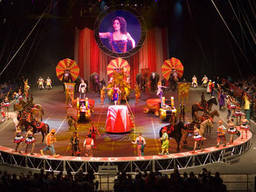 Be dazzled and thrilled by a breathtaking circus performance!
A circus is a show that travels around the country and features a number of acts including clowns, performing animals, juggling, acrobats, magicians and trapeze artists. It is usually held in a large marquee. There is sure to be plenty of fun for the whole family!
A video of Circus for Kids
Circus are just great for fun and entertainment in general for the whole family. From impressive acrobatic performances to funny clowns, you will just wish the event never ends!
Information on Circus for Kids
Is the circus for your kid(s)?
Do your kids love watching clowns and juggling acts? If they like a laugh and enjoy watching performers on the TV, they might love going to see a real life circus. Suitable for kids of any age, circus acts can appeal to the whole family. As well as being great entertainment, many circus performances are quite spectacular with dazzling costumes, lights and daring stunts. Just make sure your child doesn't try to reproduce the circus tricks at home!
Check our ActiveActivities Events page to see when the next circus is visiting your area, or if there is a circus performance scheduled at a local theatre or entertainment centre. Some circus performances are geared more towards adults than children, so make sure the circus you have chosen is child friendly!
Some very young kids might find it difficult to sit through an entire circus performance while others who are sensitive to noise or crowds might find the experience over-stimulating. If you think your child might be one of these, it is probably a good idea to sit near an exit so you can make a quick getaway if necessary!
Get a whole circus at your next birthday party!
Are you thinking about themes and potential kids activities for your child's next birthday party? Why not try a circus theme? You don't have to play host to an entire circus in your backyard to give your kids a taste of the spectacular. You could try circus songs, circus themed outfits and get the kids doing circus activities and craft.
Why not hire a clown to entertain the kids and make them laugh? Many kids' party planners have clowns that can perform a number of circus type skills such as juggling and acrobatics to amaze your party guests. Other options include stilt walkers, balloon animal creators and acrobats. Most kids entertainers charge around $200 an hour which includes performing circus tricks, arranging games and activities for kids and making the birthday boy or girl feel special.
Whether you want to visit a circus or have one perform in your living room, a circus act can be an exciting and magical experience for your child that is bound to impress!
Articles related to your search: