Museums for Kids in Melbourne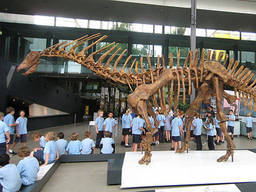 Weekends with the kids can be loads of fun in Melbourne as there are many activities for kids and things to do in Melbourne that are cheap and easily accessible. There are also a lot of free things to do in Melbourne for kids, and adults as well. The most popular attractions for kids in Melbourne are its cultural sites including museums – the city is not called the Cultural Capital of Australia for nothing. Your family trip to Melbourne won't be complete without visiting the museums. Add a little education to your Melbourne vacation!
A video of Museums for Kids in Melbourne
The Melbourne Museum explores life in Victoria in every aspect: natural environment, culture, and history. Here are some of the exhibits that are educational and at the same time enjoyable for the kids.
Information on Museums for Kids in Melbourne
Why visiting museums for kids in Melbourne are great activities for your kids?
As the Cultural Capital of Australia, Melbourne hosts cultural institutions where the world's first feature film, Australian television, the Heidelberg School, and Australian rules football were established. Where else can your kids learn more about Australia's and Victoria's history and culture? At museums and galleries, of course! Melbourne museums for kids and art galleries are some of the best in Victoria and in Australia.
Melbourne Museum
Melbourne Museum is the largest museum in the Southern Hemisphere, with various galleries and exhibits classified into different categories. The Science and Life Gallery displays the skeletons of dinosaurs and different Australian prehistoric animals; the Mind and Body Gallery features an exhibit about the mind and the human body; the Evolution Gallery features DNA and animal exhibits; and the Children's Gallery features exhibits and interactive kids activities for 3 to 8 year-olds. Entrance is free for kids aged from 3 to 16 years, while adults will have to pay around $10.


Scienceworks Museum
The world of science and technology is fascinating and mystifying to most kids. The Scienceworks Museum, located in the Spotswood district, will satisfy their curiosity with live demonstrations, tours, and interactive exhibits for all ages, enabling them to have a hands-on learning experience. Its top features include the Melbourne Planetarium, The Lightning Room, Sports-works, House Secrets, and the Nitty Gritty Super City.


Royal Australian Air Force Museum
Your little pilot kids will love the RAAF Museum in Point Cook, which has one of the largest plane collections in Australia. The museum displays old and newer planes, historic memorabilia and artefacts, and air force and war exhibits. There are also air shows that explain and demonstrate how aircrafts fly.


National Sports Museum
Situated at the Melbourne Cricket Ground, the National Sports Museum showcases more than 3,500 items linked to the greatest moments in Australia's sports history. Each of the exhibits are focused on a sport, including Australian rules football, basketball, cricket, horse racing, netball, rugby, soccer, and tennis.


Immigration Museum
Immigrants constitute a great part of Australian culture. Learn about their interesting travel accounts as well as their way of living in Australia. The Immigrant Museum will take your kids on a real historical experience.


Old Treasury Building
Before it became a museum in 1994, the Old treasury Building in Spring St. used to be a government building. Now it is a free-for-all museum with three permanent exhibits that display the original gold vaults where gold bullion was stored during the gold rush era, aside from galleries of rare and historic documents.


National Gallery of Victoria
A community's history and culture can also be seen through the arts. Art for kids, and also for everyone else, is a useful tool for creative expression. Encourage them to make use of this skill by taking them to art galleries. The National Gallery of Victoria is the oldest and largest public art gallery in Australia. It has two branches – the main gallery (NGV International) at St. Kilda Road, and the branch gallery (Ian Potter Centre) at Federation Square. NGV International holds artworks of international artists, while the Ian Potter Centre houses Australian art collection.


Williamstown Railway Museum
Operated by the Australian Railway Historical Society, the Williamstown Railway Museum displays a collection of old steam locomotives, engines, wagons, and railroad memorabilia. Your kids can also ride the mini-steam train!
Aside from visiting museums and art galleries for a historical and cultural trip, there are also other things to do in Melbourne for your kids. Some of the free things to do are having a unique farm experience at Collingwood Children's Farm; attending the festivals in Melbourne; and going to the markets with lots of entertainment for kids, such as circus performers, face painting, and arts and crafts demonstration! Visit our ActiveActivities Directory for more suggestions.
When you plan to take your family to Melbourne for the weekend or for the holidays, you are ensured that your kids will never get bored with the varied kids activities offered in the city. Melbourne is best known for their cultural sites. Take the kids to the museums and let them enjoy and learn from the exhibits!
Articles related to your search: