School holiday activities in New South Wales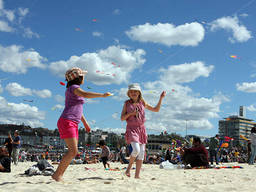 School term dates in New South Wales and the rest of Australia are divided into four, creating four school holidays including summer holidays and Easter school holidays ? the perfect seasons to enjoy the school holiday activities in NSW. There are many activities for kids, attractions, and holiday destinations in NSW for the toddlers and the whole family!
Category: outdoor & adventure, holidays, sports, entertainment, arts
Approximate age to start school holiday activities in New South Wales: School age (starting 5 years old)
Approximate price: FREE - $150
Gear/equipment needed and approximate price range: picnic basket, sunblock, swimsuit, surf board, floaters from $20
This activity comprises of: picnic, barbecue, swimming, water sports, rides, games, entertainment, camping
Best period of the year: School holidays; April, June ? July, September ? October, December ? January
Most appropriate region: Sydney, Snowy Mountains, Blue Mountains, Illawarra, Riverina, The Murray, Outback New South Wales
School holiday programs available: YES
A video of School holiday activities in New South Wales
Explore the underwater world without actually getting wet! Oceanworld in Manly displays the different species of marine flora and fauna. They also have guided tours and educational shows for the kids.
Information on School holiday activities in New South Wales
Why are school holiday activities in New South Wales great activities for your kids?
School holidays are excellent opportunities for the family to get out and about and explore New South Wales. School holiday activities in New South Wales are for all ages, not just for the kids but also for the whole family. Depending on your children's interests and the family's budget, there are a number of choices of school holiday kids activities that will suit you. Check some of them out:
National parks
There are about more than 700 national parks in New South Wales. They range from rainforests and waterfalls, to bushlands and outback deserts, offering different kinds of enjoyable outdoor activities for kids, including picnic with children. The Royal National Park in Sydney is Australia's first national park and the largest is Kosciuszko National Park in the alpine region.
Beaches
When it comes to beaches in New South Wales, Sydney is a holiday heaven. The most famous beaches in Sydney as well the whole of Australia are Bondi Beach and Manly Beach. If you are out to surf, then NSW beaches are the best choices. They have world-famous surf breaks as well as beaches where your kids can learn to surf.
Events
Don't miss the Easter school holidays in Sydney! The Sydney Royal Easter Show is a favourite kids event for all ages. The show features rides, show bags, prize-winning animals, and lots of goodies! The fireworks, street parades, and live entertainment are also something to watch for.
Museums and galleries
New South Wales is home to many major museums and art galleries. Get to know more about Australian history at the Australian Museum and be fascinated at the amazing technology collections at the Powerhouse Museum. Also get to see some of the famous Australian artworks in the Art gallery of New South Wales. Other major museums and art galleries located in NSW are the Museum of Contemporary Art, the Sydney Maritime Museum, and the Museum of Sydney.
Attractions
Want to experience life underwater? NSW has many cool nautical attractions including the Sydney Aquarium and Oceanworld Manly. Visiting the zoo is also a favourite among toddlers. One of the most visited zoos in NSW is the Taronga Zoo, Australia's greatest open range zoo. New South Wales is also home to some of the most amazing natural attractions in Australia. You can choose from forests, reserves, marine parks, outback landscapes, mountains, islands, and world heritage sites. You and your kids can explore these places through adventure school holiday activities like kayaking, cycling, hiking, or boating.
Camping
The holiday parks in the state make great camping grounds for camping with kids in New South Wales. Stay in a cabin, pitch a tent, or bring your RV at caravan parks; whichever way you want to go camping, holiday parks can accommodate you. They also have facilities like playgrounds and barbecue areas.
Need more suggestions? Visit our ActiveActivities directory for the comprehensive list of school holiday activities in New South Wales.
There are plenty of kids activities, attractions and great destination in NSW for the whole family at any time of the year. With mountains, valleys, the outback, and a coastline with pristine beaches, NSW has it all. With 16 regions, New South Wales can keep the family entertained all school holiday long!
Articles related to your search: