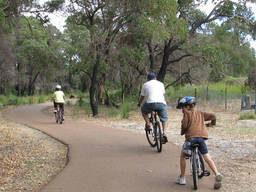 Father and son enjoying their time in Adventure World, Perth
When not in school, kids tend to prefer to just rest at home, watch TV or be in front of the computer all day. Encourage physical activity! Get some fresh air! Get them to burn their energy in worthwhile activities. Looking for fun family activities and kids activities in Western Australia? Try WA?s centre of happenings, the City of Light ? Perth!
A video of kids activities in Perth
Watch this video about Rockingham Wild Encounters! Swim with dolphins and watch them in their natural habitat.
Information on Kids activities in Perth
Why Perth is a great place for fun activities for your kids?
Getting your children out of the house doesn?t need to cost much. There are lots of attractions and activities for kids in Perth that are cheap, and sometimes even free! Kids activities in Perth are for all ages ? babies, toddlers, and teens. The city embraces an adventurous lifestyle, perfect for the restless kids. Here are some of the popular places that you and your kids should consider when you decide to try some holiday activities in Perth.
Swan River
One of the favourite family activities in Perth is cycling on the miles of bike trails along Swan River. Being centred along the river, locals and visitors of Perth should never forget to go swimming and surfing in the 80+ kilometres of white sand beaches. Many of the beaches are uncrowded so there is plenty of space for everyone. Perth?s temperate weather is suitable for enjoying either the beaches or the bike trails.
Kings Park Botanical Gardens
One of the largest inner city parks in the world, Kings Park has trails where you can go walking or cycling. It also has playground areas for the young ones, as well as shaded areas perfect for picnics. The Treetop Walk where you can appreciate the amazing view of Perth is also an in demand attraction at Kings Park.
Aquarium of Western Australia
Get your children fascinated with marine life! Go on an underwater journey with the kids at the Aquarium of Western Australia. The world?s 10th largest aquarium holds around 400 species of marine flora and fauna, and offers exciting kids activities including snorkeling and scuba diving.
Perth Zoo
Kids? love for cute and cuddly animals makes zoos a favourite kids destination. Perth Zoo houses more than 100 species of animals as well as a botanical garden. It has three main areas ? Australian Walkabout, Asian Rainforest, and African Savannah. Each of the areas intended to mimic the animals? natural habitat.
Penguin Island
Just a 5-minute ferry rode away from the coast of Rockingham is Penguin Island, home of the adorable Little Penguins. Other amazing animals can also be seen there including seabirds and pelicans. Facilities such as picnic areas and toilets are also provided in Penguin Island.
Rockingham Wild Encounters
Swim with the dolphins! Rockingham Wild Encounters offers Dolphin Swim Tours and Dolphin Watch Cruises featuring wild bottlenose dolphins in their natural habitat. You can also get up close and personal with other water animals in the area including sea lions and penguins.
Western Australian Museum
The Western Australian Museum has seven main sites, and the two are located in Perth. Western Australian Museum-Perth displays exhibits about the history of Western Australia and its people from the prehistoric times up to the present day. It also houses specimens like rocks, diamonds, and dinosaur skeletons. The Discovery Centre inside the museum is an interactive feature that helps children learn about the museum?s collections.
Whiteman Park
Are your kids fascinated with cars? Whiteman Park is where the Motor Museum of WA, the Revolutions Transport Museum, and the Tractor Museum are located. If they?re not that much into cars, it?s fine. Whiteman Park also serves as a great playground for kids that feature bushwalking and bike trails, as well as sports facilities.
Museum of Childhood
Lots of toys and interactive materials! Kids would love this place. This museum is dedicated to childhood heritage, with an extensive collection of toys, dolls from around the world, historic children?s books, and many other childhood memorabilia.
Adventure World
Adventure World is the ultimate haven of exciting kids activities in Perth. The theme park features 30 thrilling rides and a wildlife park. Some of the most popular rides that you should try are the Tunnel of Terror and the Turbo Mountain roller coaster.
Expose your kids to the arts and culture. Perth is the home to the longest running cultural festival in Australia, the Perth International Arts Festival. Held annually between February and March since 1953, the arts festival has programs featuring music, dance, theatre, opera, and visual arts. Our ActiveActivities directory contains more kids events in Perth as well as other kids activities ideas.
With Perth as one of the sunniest cities in the world, anytime of the year is a great time for kids to go out and play. When it rains, the city also offers countless indoor activities for kids. It?s really hard to stay at home with all those tempting kids activities!
Articles related to your search: