museums for kids in Sydney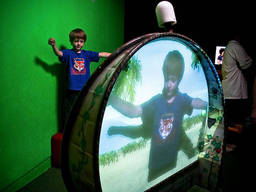 There are lots of things to do with kids in Sydney, especially during the school holidays in NSW. Being the oldest and busiest city in Australia, Sydney offers fun and interesting education for kids and other school holiday activities for kids in Sydney. NSW museums and Sydney galleries are perfect places to explore and discover Sydney a little bit more. Your kids can get familiar with Sydney's history and culture with the exhibits of fossils, artefacts, and artworks. Being a dynamic cultural hub, Sydney is one of the best places in Australia to bring your kids!
A video of museums for kids in Sydney
The Australian National Maritime Museum covers all histories related to Australia. Get to visit and explore the insides of the vessels and all the amazing exhibits inside the museum. You've never experienced water like this!
Information on Museums for Kids in Sydney
Why going to museums in Sydney is a great activity for your kids?
Sydney is home to many cultural institutions, museums, and historic sites; many of them are internationally known. These sites provide insights into a community's people, culture, art, and history. Sydney started as a convict settlement in 1788. Journey into the past and see some of Sydney's treasures at these world famous museums and galleries.
Australian Museum
Where Australia's extinct and deadliest creatures are immortalised. The Australian Museum, the oldest of the museums in Australia, houses extensive collections of natural science and cultural artefacts, from preserved and stuffed animals, to minerals, fossils, and other anthropological collections gathered from the Pacific Islands, Asia, Africa, and America. The animal displays are very impressive as they have some of the most interesting species of animals in Australia. There is also the Indigenous Australia section where you can learn more about aboriginal culture and beliefs. Most museums don't allow their displays to be touched; but at the Australian Museum, kids are encouraged to touch, feel, or hold some of the displays, allowing for a more interactive learning experience.
Australian National Maritime Museum
For your little voyagers and sailors, this museum is a must-visit. As Australia is surrounded by water, the oceans play major roles in the country's history. If you're wondering what to do in Sydney, the Australian National Maritime Museum is a good place to start your Sydney educational adventure with your kids. One of the main exhibits here is the replica of Captain James Cook's ship when he claimed Australia in 1770. Relics of the aborigines' water vessels are also among the interesting displays. What's even more fun is that the kids climb on some of the water crafts!
Museum of Sydney
As one of the most popular and dynamic cultural attractions in the city, the Museum of Sydney tells about the past and the present of the city through its history, culture, and people. The museum explores Sydney through pictures, stories, digital media technologies, interactive exhibits, and artefacts, relics, and other paraphernalia gathered before the colonisation up until the present.
Powerhouse Museum
Every kid is fascinated by the mysteries of science and technology. Australia's largest museum, the Powerhouse Museum promotes interactive learning experiences through its state-of the art interactive exhibits including computer games, videos, demonstrations, and other kids activities and lectures. The museum has over 250 exhibits that cover science, technology, decorative arts, and Australian pop culture, among others. One of its key attractions, and probably the most popular, is The Strasburg Clock Model, a working model of the Strasbourg astronomical clock in Strasbourg Cathedral.
Hyde Park Barracks Museum
The barracks at the northern end of the Hyde Park were originally built as prisoner quarters, then it became an immigration depot, then a women's asylum. Now, the barracks serves as a museum holding treasures telling about Sydney's history and colonial life. The Hyde Park Barracks Museum is considered as one of UNESCO World Heritage Lists' "best surviving examples of large-scale convict transportation and the colonial expansion of European powers through the presence and labour of convicts.""
Justice and Police Museum
A police station before, the Justice and Police Museum emphasises on themes of crime and punishment, and law and order. Its key features include a magistrate court, a restored police charge room, remand cells, and mug shots of the criminals in Sydney. There is also a display of weapons used in the early years; and an exhibit on the details of the most gruesome crimes in Australia.
Art Gallery of New South Wales
The arts for kids are excellent ways to stimulate their creativity and imagination, and also great outlets for creative expression. Bringing them to art galleries in Sydney will not only let them learn about the arts and culture of the city, but will also inspire them to become future artists. The Art Gallery of NSW displays around 29,000 artworks divided into seven major collections: Australian, Aboriginal, Asian, European, Contemporary, Photography, and Prints, Drawings, and Watercolour. The Art Gallery of NSW serves as an artworks custodian and as a research resource. Every Sunday afternoon, they have a free Gallery Kids performance, open to kids of all ages.
Sydney Tramway Museum
Experimental electric trams began in Sydney in 1890. The city also had horse trams, steam trams, and cable trams. Trams used to be popular modes of transportation, as the tram system can transport over 80,000 passengers, before tram lines were closed during the World War II. Located in the suburb of Loftus, Sydney Tramway Museum is the oldest tramway in Australia and the largest in the southern hemisphere. The museum has a broad collection of trams, a passenger rail vehicle, gathered from the cities in Australia and around the world. Your kids can go on a tram ride, offered to visitors to tour them around the museum.
Sydney is an excellent holiday destination for kids and the whole family. Besides the museums and galleries, there are many other fun things to do and exciting attractions. Surrounded by water, Sydney has some world class beaches with safe swimming and surfing spots for kids. Zoos in Sydney are also great places to bring your kids. The Taronga Zoo has the famous Chimpanzee Exhibit and Gorilla Forest. The zoo also allows kids to get up close and personal with cute and cuddly animals. Visit our ActiveActivities Directory for more suggestions of the most appealing places and kids activities in Sydney.
Let your kids explore and discover interesting facts about Sydney that they didn't know before. Museums are the most ideal places to start learning!
Articles related to your search: