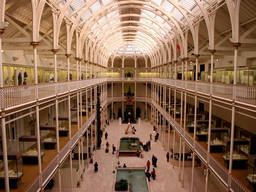 Let your kids explore new worlds at a museum!

Australian museums are great places to find out all about the past. They are a popular family outing with a range of kids' activities to explore. They also often put on entertaining talks and special displays. Why not give your kids a chance to time travel into the past and sometimes even the future.
A video of Museum for Kids
Workshops Rail Museum is fun for kids!<br><br> BIG LOUD FUN and wholly interactive, The Workshops Rail Museum is an award winning heritage and cultural tourism experience in Ipswich, south east Queensland, Australia. Located at the oldest railway workshops in Australia still in operation. Part of the Queensland Museum.
Information on Museum for Kids
Are museums for your kid(s)?
Are your kids intrigued by exploring? They might enjoy a visit to a science museum that explains all about how things work. It might include demonstrations about things like how electricity is generated. Most museums have interactive exhibits of some kind and kids love to push buttons and see what happens next! There are a wide range of museums - from your local, volunteer-run exhibition in your local town to vast national collections containing all sorts of modern and classical displays.
A visit to a museum can:
Open your kids' eyes to how the natural world works
Help them understand how other people lived in the past
Intrigue them by hearing stories about expeditions and exploration
Stimulate their imagination through trying out kids activities like indigenous painting and drawing in a kids' workshop
Most kids will find something of interest in a museum, whether it be something to read or something to do. Even if your child is shy, most museums run workshops or organise group visits, which means they can go with their friends. While very young children under 5 may struggle to pay attention for very long, there will always be something cheerful, colourful and bright to interest them and positioned at the right height for them to see easily.
It's easy for kids to get lost in a museum, so for safety, you should make sure they don't get over-excited and run off out of sight. While museums are generally safe, it is always possible for an unsupervised child to try to climb on an exhibit and hurt themselves.
Get your kids to go to a museum next weekend!
What are your kids interested in? Major cities in Australia generally have several museums so there's sure to be a museum with an exhibition that appeals. Check out our ActiveActivities Directory for your local museum. Many small museums may be free to enter, others will charge a fee. As well as museums, also consider exhibition venues and science centres. Happy time travelling!
Articles related to your search: