Cooking classes for kids in Melbourne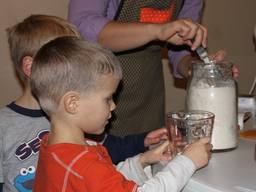 Children can now learn first hand through kids activities that aim make mouth-watering dishes even at an early age. Start enrolling your children to cooking classes in Melbourne!
Category: Arts & Crafts
Approximate age to start on cooking classes: 2 to 11 yrs. old
Approximate price: Classes start at $35 - $100
Gear/equipment needed and approximate price range: All needed equipment and ingredients will be provided and is included in the fee.
This activity comprises of: Cooking, cooking games, food preparation
Best period of the year: Year-Round
Most appropriate region: Melbourne
School holiday programs available: YES
A video of Cooking classes for kids in Melbourne
Kids enjoying hands-on cooking classes for aspiring little chefs.
Information on Cooking for kids in Melbourne
Why is Melbourne a great place for your kids to attend cooking classes?
As a parent you might be wondering, what can my children learn from cooking classes? Is it as beneficial as any kids activities that are available? When you have children, there is always a never-ending battle with good nutrition and eating healthy. Cooking classes are straight to the point and beneficial, short training courses which are available to budding chefs of varying levels who want to learn how to cook a specific dish or even sets of meals. Cooking in itself is a wide and diverse field which can be divided into different types. Under cooking, baking is also an option to explore, some places offer baking classes, cake decorating classes, and cupcake classes for a more forward and focused approach.
Thinking of enrolling your children to cooking classes in Melbourne? Here are some steps to get you started:
Search for a suitable and professional cooking teacher/cooking instructor. Not everyone who knows how to cook can teach how to cook, especially when it comes to children and toddlers. Search your area for safe and trustworthy Melbourne cooking courses that have chefs or professionals who will provide an overall good service without compromising your children's health, safety and wellbeing.
Ensure your children's safety through thorough investigation. Do your kids have food allergies or have problems with gluten and lactose? While aiming to search for beneficial activities for kids, thorough investigation of the ingredients used in classes will eliminate the possibility of your children developing an allergic reaction to the end product.
Look into various types of cooking classes. Are your children or interested in foreign cuisine? Children can now learn how to cook various dishes, through classes that teach cultural values such as an Italian cooking class, Thai cooking class, or a Japanese cooking class, which will open your kids' eyes to new and and different dining experiences.
Get your kids to start attending cooking classes!
Do you have budding kitchen masters at home? Exploit the advantages of having your kids learn how to cook even at an early age. Most places that offer cooking classes also provide the tools and ingredients needed to make a dish. However, what are the differences between cooking classes and cookery schools? Although offering the same type of instructions and same quality of training, these can be quite different from each other. A cookery school or culinary school offer more in-depth, long term cooking classes that teach extensive topics on the hows and whats of cooking, along with the history of cooking, and other bits of information helpful in pursuing the path to becoming a chef.
Cooking classes on the other hand offer short and straight to the point explanations of how to do a specific dish or specific types of dishes when you have the specific ingredients. Short term cooking classes are suitable for children for they can even include cooking class games, and there are even places that cater to kids cooking party along with tonnes of benefits that are valuable even early in life. Cooking classes can:
Develop mathematical and scientific skills
Develop and foster better social skills
Develop good eating habits
Develop a better sense of responsibility
Develop early independence
It's gratifying to be able to see your children learn how to make meals for themselves, in turn contributing to their individuality and independence. When looking for activities for kids, turn to cooking classes, your kids are sure to learn along with having a full and satisfied tummy.
For more information and tips on cooking classes in Melbourne as well as other kids activities that your children will enjoy, please visit our ActiveActivities directory.
Eat healthy and stay healthy, enroll your kids to cooking classes in Melbourne!
Articles related to your search: