Teaching your kids about cooking liquids and baking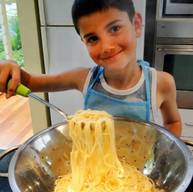 When it comes to cooking a lot of kids want to learn how to bake a cake.

This may mean cooking with liquids and using sharp utensils and hot ovens or stoves. As a parent or carer, it's important to be present while your child is cooking for the first time and keep a close eye on everything they're doing.

Here's some tips for cooking with liquid and baking a cake:

Measuring Butter

1. A block of butter weighs 250g. Most butter wrappers are marked with 50g measuring lines – use a sharp knife to cut through the butter to cut off the correct amount.

2. Alternatively, weigh the butter on digital scales – place it in a plastic container or tray that has been placed on the scales and set on zero.


Cooking with Liquids
1. Use measuring cups to measure liquid ingredients. Pour in the liquid until it comes to the top.
2. Alternatively, you can use a glass or plastic measuring jug. Pour in the liquid while bending down so that the measuring lines are at eye level and you can see that the liquid reaches the line.
The Baking Basics
1. Place your mixing bowl on a damp cloth – this will prevent it from moving around on the benchtop.
2. When mixing, use a spatula to scrape down the sides of the bowl. Beat again to combine mixture.
3. When whisking egg whites, the bowl must be clean and dry, otherwise the whites won't form peaks.
4. Make sure you use the correct size of tin as specified in the recipe. Line the base and sides of tins with baking paper – a little softened butter
rubbed onto the tin first will help hold it in place.
5. To test that it is done, insert a skewer into the middle of the cake – if no mixture sticks to it, the cake is ready. If there is still some mixture on the skewer, it needs a little longer in the oven.
6. Use oven mitts to lift cake from the oven. Leave in tin for 5-10 minutes, or as specified, then turn out onto a cake rack.
For more tips on cooking with liquids and baking cakes for your kids, please contact the expert contributor.
Articles related to your search: