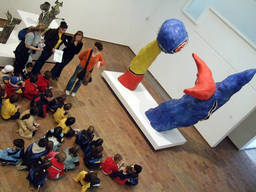 Give your kids a taste for art with a visit to an art gallery!
Art galleries are buildings, which house collections of art work. Whether by famous international artists, or lesser known local exhibitors, art galleries can open kids' minds up to the world of art!
A video of Art Galleries for Kids
View an awesome gallery of kids art, prints, pastels and paintings! Aussie Kids Art Galleries are often worth a look!
Information on Art Galleries for Kids
Are art galleries for your kid(s)?
Do your kids like art? If they enjoy looking at pictures and books they might enjoy a trip to one of your local art galleries to check out some real life works of art. Art exhibitions are great for stimulating kids' minds and encouraging creativity and they can be a relaxing way to spend a Saturday afternoon.
Do your kids love to run around and make loads of noise? Art galleries might not be for them. Active and noisy kids may prefer to spend time burning off their excess energy outdoors – taking them to art galleries could be a stressful experience for everyone. On the other hand, it could be a good way to teach them to calm down and respect the others by following the rules. Any child who is a budding artist will probably love a visit to an art gallery and if your child enjoys quiet kids activities like the museum, there is a good chance they will like art galleries.
Art galleries differ from other educational centres in that they focus specifically on works of art. These can take many forms including:
Photography
Aboriginal art
Contemporary or modern art
Pop art
Abstract art
Sculpture
Other, less common forms of visual media including video art, textile art and installation art
Even babies can have fun being taken for a walk around an art gallery and looking at the interesting things on display but for very young children you might want to limit the length of your visit. Finding specific art galleries for kids or at least a kids' exhibition might help to generate interest and stave off boredom. Always check before taking photos of any displays, as flash photography is generally not permitted.
Get your kids to start going to art galleries!
You can find your closest art gallery by checking our ActiveActivities Directory . There are plenty of art galleries around Australia, so there's a good chance there will be one in your area. Art galleries are generally very affordable and offer concessions for pensioners and students. There are often art exhibitions in libraries, museums and festivals so keep your eyes open!
Many art galleries also offer art and craft activities for kids so if your children are feeling inspired by the works on display, why not let them have a go at creating their own?
Articles related to your search: