Art Galleries For Kids In Melbourne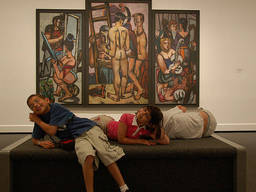 Referred to as the Cultural Capital of Australia, Melbourne is Australia's centre of excellence for the arts. It is where cultural institutions were founded, including Australian television, the world's first feature film, and the Australian impressionist art movement known as the Heidelberg School. It is also where major international cultural events and multi-arts festivals are held, such as the Melbourne Festival. Australian art includes Australian aboriginal art, colonial art, landscape, modern art, and contemporary art. If you are living in Victoria or just visiting with the family, one of the most recommended activities for kids and the whole family is to visit art galleries in Melbourne. Art is a window to a society's culture. Teach your kids to know more about the culture of Australia through the arts!
A video of Art Galleries For Kids In Melbourne
The NGV Kids Corner provides a lot of activities that will enable your kids to learn and experience new and interesting things.
Information about Art Galleries in Melbourne for Kids
Why visiting art galleries in Melbourne is a great activity for your kids?
Art in Victoria and Melbourne focuses on visual aspect. Visual arts comprise painting, drawing, film, sculpture, and photography. Other forms of arts also flourish in Melbourne, such as music, theatre, dance, and literature. In fact, Melbourne is named as a UNESCO City of Literature. The city has some of the most prominent theatres in Australia, aside from being home to many of the most popular art galleries in Australia. There are over a hundred art galleries in Melbourne and one of them is the oldest and largest art gallery in Australia, the National Gallery of Victoria.
National Gallery of Victoria
The NGV has more than 70,000 artworks from all disciplines, and hosts large, international exhibitions. It has two branches: the NGV International (main gallery on St. Kilda Road) and the Ian Potter Centre (branch gallery at Federation Square). NGV International houses the international collection while the Ian Potter Centre houses the Australian art collection. The branch gallery also has a Kids Corner that hosts free storytelling and drama activities.


Melbourne Museum
The largest museum in the Southern Hemisphere, Melbourne Museum has seven main art galleries, which includes a Children's Gallery. The exhibits in Children's Gallery are aimed at kids aged 3 to 8 years. Other art galleries in the Melbourne Museum can also be fascinating and educational to your kids as they include science galleries and historical galleries. Other Museums in Melbourne provide great exhibitions and art galleries.


Australian Centre for Contemporary Art
The ACCA, a non-profit public art gallery, showcases contemporary art in Melbourne, including sculpture, photography, painting, and video exhibits. The gallery provides a free yet distinct Melbourne cultural experience.


Australian Centre for the Moving Image
Instead of going to the cinemas, why not have a unique film viewing experience at the ACMI? The ACMI is the world's largest screen gallery and home to Melbourne's best and most popular film festivals.


Heide Museum of Modern Art
The Heide Museum of Modern Art provides art, architecture, and landscape exhibits that have rich social history and artistic heritage. It is one of the most important cultural institutions in Australia. The museum also houses works from Melbourne's modern and contemporary artists.
Melbourne is known for being a source of inspiration for artists. Even on the streets, you can find works of art, like graffiti on walls, unique architectural fragments, and steel sculptures. Explore the arts in Melbourne by joining art walks or free guided tours. With tours, not only will you have organised itineraries, but also receive important facts about Australian art as well as history, particularly about Melbourne and Victoria.
What's on in Melbourne aside from the art galleries? Melbourne has a lot of great attractions you can choose from. Your kids will also enjoy Melbourne Zoo, with its more than 350 species of animals. Go swimming at St. Kilda Beach or have an amazing time at its amusement parks for kids. Melbourne also has a lot of parks and gardens if you are looking for a nice place to stroll around and have a picnic. Our ActiveActivities Directory offers great ideas for kids activities in Melbourne.
Kids are naturally curious and creative Ð they will definitely enjoy seeing different artworks in art galleries in Melbourne. Melbourne's culture is grounded on the arts, so make sure to visit its art galleries!
Articles related to your search: