surfing for kids in the Melbourne Region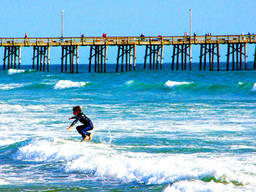 When it comes to surf beaches, Victoria's beaches are considered among the best in Australia, with the coastline being famous for the high Quality waves. Surfing is one of the popular activities for kids in the Melbourne region. If you are looking for things to do with kids in the Melbourne region, then we recommend surfing!
A video of surfing for kids in the Melbourne Region
Bell's Beach in Torquay is famous for hosting the annual Rip Curl Pro. Rip Curl GromSearch is the division for boy and girl surfers under 16.
Information on Surfing for kids in the Melbourne region
Why going surfing in the Melbourne region is a great activity for your kids?
Surfing is one of the most popular Melbourne water sports for kids today. Because of its moderate oceanic climate, Melbourne is a great place for surfing, at any time of the year. In fact, Melbourne is known as Australia's surfing capital. The city even has a Surf World Surfing Museum, where visitors can learn about the surfing heritage and beach culture of Australia. The museum features a range of interactive kids activities that the little surfers and surf fanatics will enjoy. The museum also offers tips on some of the best surf spots in Melbourne region.
Torquay
Beginner and experienced surfers love surfing in Torquay because its beaches has some great surf spots ideal for every age and skill level. For the beginners, Fisherman's Beach and Back Beach are the ideal beaches to practice beginner surfing; while Bell's Beach has provoking waves for the pros. Bell's Beach hosts the longest running international surfing competition in the world, the Bell's Beach Rip Curl Pro.
Lorne
The seaside town of Lorne is a famous destination on the Great Ocean Road tours. Popular activities in Lorne include swimming and surfing, as well as fishing. Surrounded by the ocean and forest areas, tis town is ideal for relaxation. Its surf beaches are popular among surfers of all levels, with winds producing fun and long riding waves.
Phillip island
The most popular beach that is best for surfing in Phillip Island is Woolamai, which is known for its breaks. Woolamai might only be ideal for experts because the rips might be too extreme for beginners. However, there are other beaches in Phillip Island best for beginners, including Smith's Beach. Protected by the ocean swells, the waves at Smith's Beach are nice and easy. Phillip Island is considered a great spot to take your kids because of the cute penguins swimming up to the shore.
St. Kilda
Recreation activities in St. Kilda include most water sports like surfing, windsurfing, kitesurfing, and sailing. St. Kilda has more than 40 beaches, including St. Kilda Beach, the most famous beach in Melbourne. The water quality of the beaches in St. Kilda is monitored by the Victoria Environment Protection Authority; and lifeguards are also always present in all the beaches.
Get your kids to start surfing!
Surfing may be considered as an extreme sport and requires a lot of practice to perfect the skill. Surfing lessons in Melbourne beaches are offered for all ages. There are also surfing schools around Melbourne with classes usually costing around $50 per session. Visit our ActiveActivities Directory for a complete list of available surfing classes in Melbourne.
Other water activities that are also popular in Melbourne are canoeing, kayaking, and fishing. You can also go scuba diving or snorkelling and appreciate rare marine life, including soft corals and weedy sea dragons.
The best time for surfing is in autumn, when the winds provide bigger waves. The surf during the summer is smaller, ideal for beginner surfers.
Melbourne beaches have great consistent epic waves and mountainous swells, making the region Australia's surfing capital. Let your kids have a swelling summer. Get them to try surfing in the Melbourne region!
Articles related to your search: