Surfing For Kids In Sydney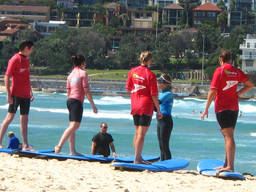 Try surfing in Sydney for an adrenaline packed water sport!
Surfing involves riding on ocean waves on a board. Surfing in Sydney offers some of the best surf in Australia and with a number of great surf spots to choose from, it's the ideal place for your child to learn to surf!
A video of Surfing For Kids In Sydney
Some surf schools in Sydney offer one on one surfing lessons. The 1:1 student-teacher ratio enables full supervision for every student to achieve their full potential.
Information On For Kids Surfing In Sydney
Is surfing in Sydney for your kid(s)?
Do your kids love the beach? If they like water sports they might enjoy surfing lessons. Sydney beaches are second to none when it comes to surfing, and the most popular beaches for surfing include Bondi and Manly on the Northern Beaches. Getting your kids involved in surfing in Sydney could have many benefits including:
Improved fitness
Improved swimming ability
Great chance to get outdoors
Increases water confidence
Improves awareness of water safety particularly when it comes to understanding the waves, current and tide.
Are your kids confident swimmers? Surfing in Sydney, as with anywhere else requires a certain degree of swimming ability. Children who are not confident but are keen to have a go might benefit from surfing lessons while kids who are anxious in the water might prefer more land based kids activities such as beach volleyball.
Kids can start surfing in Sydney as young as 6 years of age and you can always take them to the beach earlier than that and let them have a play in the water with a surfboard. It is a good idea to get lessons at a local Sydney surf school when kids are starting, as this can help ensure maximum safety and supervision from a qualified lifeguard. Surfing in Sydney can be dangerous so make sure kids are constantly supervised and taught the best way of dealing with dangerous situations in the water. To learn more about surfing, you may find our article about surfing for kids interesting.
Get your kids to start surfing in Sydney!
There are a number of places that kids can learn surfing in Sydney including surf lifesaving clubs, surf schools and school holiday surf camps. To find your local surfing in Sydney venues and similar kids activities, check out our ActiveActivities Directory . Manly and Bondi beach are well organised in terms of safety. Flags for the swimmer zones and public announcements on the megaphone help swimmers and surfers to be aware of any danger.
Moreover, these beaches, together with Freshwaters', are perfect for beginners in terms of level of difficulty and number of surf schools.
Are you taking your kids surfing in Sydney? Make sure kids have plenty of sunscreen and protective clothing including a rash vest. In cooler weather, wetsuits might be advisable ? your surf school or club will probably have them available for hire or you can purchase one for your child. Surfboards are provided during lessons.
Sydney's beautiful beaches make surfing in Sydney a perfect choice for water loving kids!
Articles related to your search: