Sailing For Kids In Sydney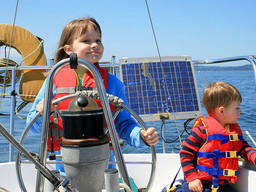 Cute little sailors!
Your child can enjoy Sydney harbour at its most spectacular by going sailing in Sydney!
Sailing is a popular sport throughout Australia. With such a beautiful location and so many great spots, sailing in Sydney is an enjoyable recreational pastime and a competitive sport. Let your kids take to the open water and enjoy the views!
A video of Sailing For Kids In Sydney
In just 16 hours of sail training, your kids will learn to voyage the waters of Sydney like a pro.
Information On For Kids Sailing In Sydney
Is sailing in Sydney for your kid(s)?
Do your kids love being around the water? If they are confident swimmers and like to challenge themselves they might love to take sailing lessons in Sydney. Sailing in Sydney is a great way to introduce kids to the sport of sailing and with so many sailing clubs around, like in Balmoral, Manly or Rose Bay, they will be spoilt for choice!
Sailing in Sydney can benefit your kids in many ways including:
Teaches co-operation and teamwork
Great form of exercise
Gets kids out in to the fresh air
Can teach mental discipline and focus
Great for all different levels of fitness and physical co-ordination
No matter what age your child is there are a number of different sailing activities for kids in sydney that might suit them. Very young children might enjoy watching sailing in Sydney, riding on a Sydney cruise ship or a whale watching tour. Older kids might prefer to try dinghy sailing or yacht sailing.
Is your child nervous around water? They might not like sailing in Sydney and would prefer more land based kids activities or sports. If they like water they might like to try kayaking or canoeing before venturing out in to the ocean.
Sailing in Sydney, like any water sport, does come with a few risks. The weather is always unpredictable and conditions can change very quickly, especially during summer when the weather changes from blue sky to storms in hours, so it is important when sailing in Sydney that kids go out with an experienced sailor and wear all the necessary safety equipment and always check the forecasts and weather conditions before going out on the water..
Get your kids to start sailing in Sydney!
Are you looking for a sailing school in Sydney? Try our ActiveActivities Directory to find your local sailing school or boat hire place. For most sailing based kids' activities, it is a good idea to start with a course of lessons from a qualified professional.
Not sure how much it will cost to take your kids sailing in Sydney? Sailing in Sydney is not the cheapest activity with sailing lessons generally costing around $60-80 per lesson. With a bit of encouragement one day your child could be sailing in the Sydney to Hobart yacht race!
Articles related to your search: