Sailing For Kids In Melbourne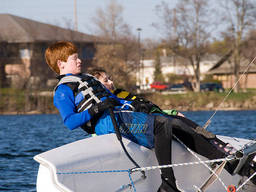 A fun and challenging hobby.
Let your kids try sailing in Melbourne for a unique view of this vibrant city!
Sailing is a popular sport and pastime in Melbourne. With its fantastic beaches and beautiful scenery, sailing in Melbourne is a great way for your child to learn a useful skill and have fun at the same time!
A video of Sailing For Kids In Melbourne
Sailing is not just a hobby. Your kids can take it as a sport too! Here is a video of a team of kids training for a sailing championships in Melbourne.
Information On Sailing For Kids In Melbourne
Is sailing in Melbourne for your kid(s)?
Do your kids like boats? If they are confident around water and have an interest in boats they might love sailing in Melbourne. Melbourne is a great place for kids to try sailing for a number of reasons:
Melbourne's climate generally offers good sailing conditions, particularly for inexperienced sailors who are learning
There is a strong sailing community in Melbourne, especially around Port Phillip bay with lots of opportunities for kids to try sailing and even free sailing days at certain times of the year
Melbourne's varied scenery and striking skyline make sailing in Melbourne a unique and interesting way to see this beautiful city
Sailing in Melbourne is great for kids who are able to focus for long periods of time; if your child loves to run around they might find it difficult to stay confined in a small yacht or dinghy. They may prefer to take a trip on a large ship or even a short cruise in and around Melbourne where there is plenty of space to run about on deck.
Are you unsure whether sailing in Melbourne is right for your very young child? Kids of all ages can have fun sailing as long as they are wearing life jackets and are well supervised but learning to sail is probably most appropriate for children aged 5 and over who have the self-discipline and physical strength to learn to handle a boat.
Getting your kids involved in sailing in Melbourne can open up a whole new world to them, and you! There are many sailing clubs in Melbourne that you could join.
Get your kids to start sailing in Melbourne!
Are you planning a trip to Melbourne or are you are a local whose kids are interested in sailing in Melbourne? If you are, looking for sailing clubs or yacht clubs in the area, ourActiveActivities Directory will be able to point you in the right direction. Sailing lessons usually take place during weekends and school holidays and you can expect to pay around $60 - $80 per session.
There are a few different types of sailing offered in Melbourne, including yacht sailing, dinghy sailing and cruising. Clubs are located all around the area, but particularly in Port Phillip Bay and Williamstown. For any kids activities involving sailing in Melbourne, it is important to be aware of safety. If you choose a hire boat, make sure that you are aware of any unpredictable tidal or weather conditions!
Articles related to your search: