Sailing for kids in Hobart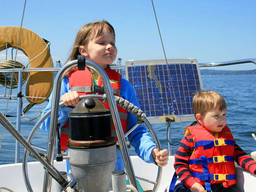 As a maritime community, TAS has yachting communities, sailing competitions, and amazing coastal sceneries. Tasmania actually has more boats per head of population than any other state in Australia. No wonder it is also known as an island of sailors. Its capital city, Hobart, is set in the banks of Derwent River. If you are spending the holidays in Tasmania with your children, then we recommend river sailing for kids in Hobart!
A video of Sailing for kids in Hobart
Prepare your kids for the great waters of Hobart by letting them join sailing academies!
Information on Sailing for kids in Hobart
Why is Hobart a great place for your kids to go sailing?
Sailing in Tasmania is a fun and relaxing activity that your little sailors will enjoy. Not only will you get to travel different bodies of water, you will also get to see fantastic landscapes. Sailing can also help your toddlers gain confidence on the water. Hobart is considered as one of the world?s great sailing cities. Being set on the Derwent River estuary, the most popular water activity for kids and the whole family in Hobart is river sailing.
What?s fun about sailing for kids is that it is one of the kids activities that everyone in the family can enjoy. For both beginner and experienced sailor, sailing for kids in Hobart offers a variety of opportunities to explore the waters. You can charter boats or yachts for hours or days. You can also join organised boat cruises. Visit our ActiveActivities Directory for the available boat tours in Hobart, as well as places where you can charter boats and yachts.
The marine west coast climate of Hobart makes it an ideal place for sailing. Your kids and the rest of the family will surely enjoy warm summers and cool winters while traversing Hobart?s channels. More than just sailing as an activity, consider Hobart a trip to historical places, such as the Battery Point, Salamanca Place, Royal Tasmanian Botanical Gardens, Mount Wellington, and the Cadbury Factory which the whole family will enjoy!
Watching a yacht race is another popular activity in Hobart. The Sydney to Hobart race is a significant part of a typical Australian summer. It starts on Boxing Day in December, sailing out from Sydney Harbour and crossing the finish line in Hobart. Be one of the audiences in Hobart and watch the yachts as they emerge from the Derwent River and into Battery Point. Welcoming the yachts is always a festive period in yacht clubs in Hobart, as the city also hosts the Tasmania Taste Festival.
Other enjoyable activities for kids in Hobart that you can combine with sailing include snorkelling, bird watching, and swimming with the dolphins. There are endless possibilities for getting your kids into sailing, with clubs, schools, guided tours, and yacht and boat hires in Hobart. Get your kids to learn to sail, and share the joy and fun of Hobart sailing!
Articles related to your search: