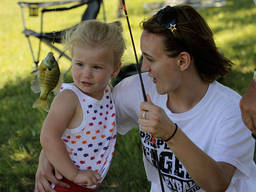 Do your kids love spending hours outdoors? Do they like doing something good for a prize? If your kids fit these descriptions, then they will most likely love fishing as a hobby. Yes, fishing can be done by kids, too. With all the bountiful fishing sites in Australia, your kids will surely enjoy catching fish of different kinds, colours and sizes!
Category: Sports
Approximate age to start fishing for kids: 6 years old and up
Approximate price: $50 - $100
Gear/equipment needed and approximate price range: fishing rod, bait and fish hooks
This activity comprises of: Preparation for fishing, using the right fishing rods and baits
Best period of the year: anyt time of the year
Most appropriate region: New South Wales, Queensland, Tasmania, Western Australia and South Australia
School holiday programs available: YES
A video of Fishing for kids
Aussie fishing pro mom and kids catch fish for dinner
Information on fishing for kids
Will your kids enjoy fishing?
Kids have always been fascinated by the sea and the marine creatures that hide underneath. Fishing is one of the activities for kids that your toddlers will enjoy with the whole family. It is a great way of getting your young ones acquainted with nature as they appreciate the traditional way of catching fish from different bodies of water. Fishing with kids is also an opportunity for you to spend some quality time with your children. Next time you plan your next family outing, don't forget to include fishing as one of your itineraries. Kids don't get to fish every day, so fishing with the whole family is something they will surely enjoy and remember for a lifetime!
While fishing is mostly seen as an adult activity, children can clearly benefit from this hobby. Some of these benefits are:
Improved dexterity and coordination
Instilled responsibility
Better concentration and focus
Deeper appreciation of the environment
Value of team work
Knowledge in wildlife
What your kids should know
Your kids will need special fishing gear to start on their new hobby. Moreover, they also need to be familiarized with fishing basics to ensure their safety and a good catch. Below are some of the fishing tips and terms that you and your kids will find helpful:
Fly Fishinga method of fishing that uses an artificial fly as a bait, which is cast by the use of a fly rod or a reel.
Bass Fishing a popular fishing hobby in Australia, North America and around the world, with a goal of catching different kinds of sea bass.
Fishing Rods are long rods used to catch fish with the aid of hooks at their ends.
Fishing Licenses are given to authorize bearers to fish in during a specified duration. Fishing licence is needed only on certain cases, depending on the place of fishing, purpose for fishing and season of the year.
Trout Fishing is a common fishing hobby that catches trout fish, which usually dwell in freshwater like lakes and rivers.
Fishing Net also called fishnet, is a wide mesh used to trap and catch fish. Fishing nets are usually used in commercial fishing.
Fishing Boats are used to travel on bodies of water in search of a good fishing spot. While commercial fishing uses fishing boats that are as large as ships, fishing for kids will only require small ones that can carry several passengers and fishing equipment. Experience in this area can also prepare your kids to enjoy the pastime of sailing.
Get your kids to start fishing today!
Safety is one of the things that you should focus on when you introduce your kids to fishing. This applies to basic fishing techniques like using fishing rods, making fishing knots and handling other fishing gear. When fishing at a lake, on a riverbank and other bodies of water, kids must also wear life vests to ensure their safety.
Given that Australia is famous for its diverse marine life, splendid snorkeling and divinglocations and generous fishing spots, there are many fishing lessons offered to kids and adults across the country. Some fishing lessons come free and some for a fee. What you really need to prepare funds for are the quality fishing gear that you and your kids will need when you start fishing.
Visit our ActiveActivities directory for more tips on fishing for kids in Australia, as well as other outdoor kids activities that your children will enjoy.
Create unforgettable memories with kids through fishing!
Articles related to your search: