Angling clubs in Western Australia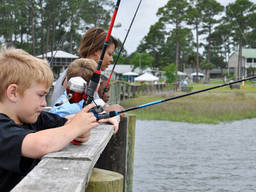 Kids can make friends with other fishing enthusiasts in angling clubs.
Western Australia has a significant fishing industry. Products for local consumption and for export include lobsters, crabs, shark, and tuna. Pearl fishing is also popular, especially in the Kimberley region of the state. When it comes to leisure activities, angling is one of the popular activities for kids, as well as for adults in WA. Curious about this activity? Why not let your toddlers join an angling club?
Category: Sports
Approximate age to join angling clubs: 4 years old
Approximate price: Day membership - $10, Annual membership - around $200
Gear/equipment needed and approximate price range: Rod - $20, Reel - $20, Line $4, Bait/Lure - $5
This activity comprises of: Fishing, Riding a boat, Competitions, Events
Best period of the year: Dry Season
Most appropriate region: Walpole, Exmouth, Rottnest Island, Montebello Islands, Kalbarri, Leeman, Rowley Shoals, Fitzroy River, Blackwood River, Shark Bay
School holiday programs available: YES
A video of Angling clubs in Western Australia
Angling is a great bonding activity between parents and kids.
Information on angling clubs in wa
Why is WA a great place for angling clubs?
WA fishing is one of the most popular recreational activities as well as kids activities in the state. WA boasts the longest coastline among all the states in Australia, with 12,899km of coastline. Perth, with its vast coastline and pristine inland waters, is a fisherman's paradise. Weather in WA is mostly Mediterranean, and the state also has a collection of diverse marine environments from semi-temperate waters to tropical waters.
Angling is a method of fishing by means of an angle or fish hook. Although most anglers keep their catch for consumption, angling sometimes uses the catch and release system, which is a principal method in sport and recreational fishing. WA fishing regulations include size limits, where fish below or above a certain size must be released, according to law. Fishing in WA has regulations which include a WA fishing license,restricted season times, types of gear that can be used, and catch quotas.
If your kids are interested in learning about marine life but are hesitant to get into the water, then angling is ideal for them! To effectively learn about angling, there are lots of angling clubs in WA that accept members of all ages.
Angling clubs in WA and in other locations in Australia offer courses where kids are introduced to angling in a friendly and safe environment. Angling clubs will teach children how to:
Choose, set up, and operate a fishing rod.
Select baits and lures, and choose the correct worms.
Unhook a fish and release it unharmed back into the water.
Children will also get to learn safety and responsibility near and on the water, as well as the WA fishing regulations and fishing report for WA, to be informed when the ideal season for fishing in the state is. Angling clubs also offer fishing tours in WA, as well as competitions and events.
Get your kids to join fishing clubs in WA!
To get started, buy your kids basic fishing gear which can be found in fishing shops. Our ActiveActivities directory has a comprehensive angling clubs in WA certified by the Australian Anglers Association. Here are the top spots in WA where you can go fishing with the family:
Walpole
Exmouth
Rottnest Island
Montebello Islands
Kalbarri
Leeman
Rowley Shoals
Fitzroy River
Blackwood River
Shark Bay
Joining angling clubs can encourage children to consider angling as their hobby. They might want to get a WA fishing license if they have grown to love the activity so much. WA fishing licenses are available through the Western Australia Department of Fisheries.
Fly fishing clubs are also similar with angling clubs, but the hooks they use to catch fish is usually artificial, with feathers, fur, foam, or yarn attached by thread. This can be ideal to younger beginners. If your kids are not afraid to ride a boat, deep sea fishing, or offshore fishing, is also a choice for them. Visit our ActiveActivities directory to learn more about deep sea fishing in WA.
Make the most out of WAs vast coastline! Join fishing clubs in WA!
Articles related to your search: