Adventure Activities for Kids in Queensland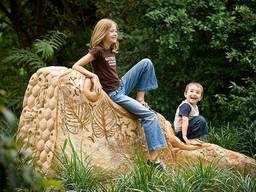 Being the second largest state in Australia, Queensland is a popular tourist destination that offers different kinds of activities for kids of all ages and the whole family as well. Queensland has landscapes that range from tropical coastal areas to lush rainforests and dry inland areas, offering a range of exciting adventure activities. If you're looking for thrilling outdoor activities for your family holidays, then check out the adventure activities for kids in Queensland!
A video of Adventure Activities for Kids in Queensland
Currumbin Wildlife Sanctuary in Gold Coast QLD features the Wild Island Adventure Playground where there are sorts of adventure activities for kids.
Information on Adventure activities for kids in Queensland
Why adventure activities in Queensland are great activities for your kids?
The school holidays is an excellent time for the family to spend some time together. Make the most out of it by doing school holidays activities in Queensland and let your kids unleash their adventurous side. QLD has year-round tropical climates, perfect for outdoor activities. The following places are some of the major destinations for adventure activities for kids in Qweensland.
Brisbane
Some of the most interesting activities for kids in Brisbane are the adventure sports. Being naturally curious, kids are always on a quest for excitement. Trying out extreme adventure sports will definitely get them to feel the intense adrenaline rush, satisfying their thirst for adventure. If your kids are not afraid of heights, they can try abseiling, also called rappelling.
Kangaroo Point in Brisbane CBD is a great place to introduce your kids to abseiling. Abseiling the cliffs of Kangaroo point at sunset will give you the best view of Brisbane. Another heart stopping adventure activity in Kangaroo Point that your kids won't forget is climbing Brisbane's Story Bridge. The Story Bridge climb is one of the most popular attractions in Brisbane. Climbing the Story Bridge is open to children 10 years old and above. Climbing and abseiling are the most wonderful ways to appreciate the beauty of the city. Adventure sports are more extreme than ordinary kids sports so make sure that they are always with an adult; and also make sure that the safety measures are explained to them properly.
Don't think your child is ready for adventure sports? Brisbane is home to fun theme parks and facilities including Gateway Village. Get your toddlers to get moving and try out the challenging slides and climbing activities. The play area is spacious and fully fenced so your kids are safe inside.
Moreton Island
Tangalooma Wild Dolphin Resort on is one of the very few places in the world where you can hand feed dolphins. Other adventure activities you can experience there is diving, snorkelling, banana boat rides, treasure hunting, swimming, and kayaking. Moreton Island has more 70 beaches, a marine sanctuary, and countless adventure activities.
Gold Coast
Gold Coast is popularly known as Australia's Theme Park. Gold Coast adventure activities for kids can be experience in the five major amusement parks: Dreamworld, Movie World, Sea World, Wet n' Wild, and WhiteWater World, each offering different types of family adventure activities depending on your children's preference. Gold Coast is also a major tourist destination because of its surfing beaches and rainforests.
Sunshine Coast
With some of the most beautiful beaches in Australia and ideal surfing conditions, Sunshine Coast is considered as the Surfing Safari of the country. The rugged mountains and national parks are also recommended places for exciting outdoor activities including camel riding, go-karting, scuba diving, abseiling, rock climbing, and rafting.
Cairns
The world famous Great Barrier Reef is located in Cairns. Go snorkelling and scuba diving with your kids and explore the wonders of the underwater world. The rainforests are also wonderful places in Cairns where you can appreciate the diverse species of Australia's flora and fauna. The Daintree Rainforest is the oldest surviving tropical rainforest on earth where you can discover ancient aboriginal rock art sites.
With so much to offer including exciting adventure activities and things to do with kids in QLD, it is so much easier to keep them amused while staying in the state. Browse our ActiveActivities Directory to see all the available adventure activities for kids in Queensland, as well other kids activities for all ages, including babies and toddlers. Your kids will never run out of things to do in QLD!
Articles related to your search: