Adventure activities for kids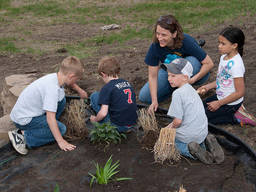 Do your kids spend too much time indoors and watch TV or play video games all day? Try introducing them to adventure activities for kids! Television and video games arent bad for toddlers, but too much of something is never good. Its the same with children who spend too much time outdoors, especially if you are worried about their safety. Engaging children in adventure games, be it outdoors or indoors, will ensure that your kids are having fun while participating in lively activities!
Category:Outdoor & Adventure
Approximate age to start adventure activities:6 - 12 years old
Approximate price: FREE
Gear/equipment needed and approximate price range:Paper, paint, toys, and sports gear
This activity comprises of:adventure games, summer camp, online games
Best period of the year: Any time of the year
Most appropriate region:Anywhere in Australia
School holiday programs available: YES
Information on adventure activities for kids
Are adventure activities for your kids?
Due to advancing technology, a lot of children are getting engrossed in activities that prevent them from spending time outdoors. TV and video games, along with the internet and hand-held gadgets, might contribute to their lack of interest in playing outside. It is well and good if your kids are naturally active and love playing on their own, but if you find that they are withdrawn and stay indoors too much, getting them to participate in adventure activities in Australia may be the answer.
Kids participating in adventure activities will certainly improve the following skills:
Ingenuity
Self-esteem
Problem Solving
Focus
Commitment
Perseverance
If you are unable to proceed with outdoor activities due to time constrains or unpleasant weather, your kids can also participate in indoor adventure games.
Get your children to start adventure activities for kids!
There are various kids activities that your children can choose from, and all of the adventure activities listed here will enhance your kids' play time. It allows them to be creative, as opposed to just playing run-of-the mill outdoor ball sports.
Summer camp doesn't have to be something your children are required to do- make the right choice and enroll them in adventure summer camps that they will be excited for! There are archeology and biology camps that will ensurean educational and fun summer for toddlers. If you would like outdoor adventure for kids, opt for canoeing and hiking camps to help them enjoy while they get much-needed exercise.
Outdoor adventure for kids don't need to be pricey to be enjoyable-something simple like walks and exploring shells and rocks on a beach will work as well. Take them on bug hunts, where lively scrambling for bug samples can be partnered with educational talks about the bugs your toddlers have caught. For parents with free time to prepare, you can engage your kids on a nature scavenger hunt. If your kids prefer to stay within the comforts of your own home, you can try exploring your backyard with a magnifying lens. You can also check for free kids events within your community.
Adventure parks are activities for kids that the whole family can also take part in! On weekdays when everyone has free time, schedule a trip where everyone can enjoy the sights and exciting rides.
Visit our ActiveActivities directory for more tips on adventure activities for kids in Australia, as well as other kids activities that your toddlers will enjoy.
Fire up their imagination with adventure activities for kids!
Articles related to your search: