Snow Sports For Kids In NSW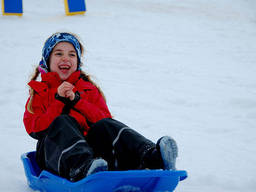 Sleighing is the most basic snow sport that kids can learn.
Snow sports are exciting ways to keep fit during the winter holidays. One key snow sport destination in Australia is the Snowy Mountains. The Snowy Mountains is known as the centre of snow sports in NSW. It can receive significant snowfalls, creating extensive ski fields during the winter because it is the highest region in Australia. In this delightful place, your kids won't be afraid to brave the snow!
A video of Snow Sports For Kids In NSW
Board sports like skiing can help your kids gain perfect balance and other useful skills. Enjoy the snow with them at any of the ski resorts and snow parks in NSW.
Information On Snow Sports For Kids In NSW
Why is snow sports in NSW a great activity for your kids?
New South Wales, or NSW, offers numerous experiences and activities for kids and adults alike that suit all tastes and interests Ð historical sites, sandy beaches, natural wonders, and the rugged Snowy Mountains. Wherever you are in NSW, you and your kids will no doubt enjoy your stay. If your kids enjoy snow sports, The Snowy Mountains in NSW is the place to be.
The most popular snow sports in NSW and the whole of Australia are alpine-skiing, cross-country and back country-skiing, snowboarding, ice-skating, and sleighing. Australia has participated in recreational skiing since the 1860s, and has won Olympic gold in ice skating, skiing, and snowboarding. In the Snowy Mountains, NSW, you will find an endless list of kids activities and adventures. The most popular areas are:
Jindabyne
Jindabyne, located just below the snowline, serves as the gateway to Snowy Mountains. This is usually where the visitors of the ski resorts stay as it can be cheaper than staying in the resorts. It is also a great place for canoeing, kayaking, horse-riding, and bushwalking.


Mount Kosciuszko National Park
Located on Australia's highest mountain, Mount Kosciuszko, the Mount Kosciuszko National Park is touted as the future of snow sports in NSW. It is where four major snow resorts in NSW are located: Thredbo, Perisher, Charlotte Pass, and Selwyn Snowfields. They cater to all snow sports enthusiasts, people of all ages and skill levels. Perisher is the largest ski resort in Australia and Selwyn Snowfields is an ideal place for beginners.
All the snow parks and resorts in the snowy mountains offer everything from accommodation, food, and of course, the fun. They also have ski hire where you can rent ski gear and snowboards if you don't bring your own. A complete ski gear includes skis, ski boots, goggles and helmet for safety, and ski poles. Snow sports are considered extreme sports. It may be fun and thrilling for the kids, but they can also be dangerous. It is important that they always have adult supervision. Familiarise the of the different slope signs and make sure that they obey the signs, the rules, and the regulations of the snow resorts.
If your kids enjoy snow sports as recreational activities, they might want to take it to the next level and become snow sports athletes and represent their schools at the interschools snow sports competition. There are available classes and schools for snow sports in NSW where a variety of snow sports programs are offered to your kids, including skiing, mogul-skiing, aerial-skiing, snowboard, short-track speed-skating, skeleton, and figure-skating. All these snow sports programs provide coaching and training to your little athletes to develop skills and to have the best winter they can experience. Kids starting from age 3 can enrol in the different age-specific programs.
The winter season starts early June and ends late September. Other than NSW, other Australian states that experience sufficient snow during winter and are suitable for snow sports are Victoria and Tasmania. Visit our ActiveActivities Directory for a list of recommended snow parks in NSW.
Get your kids to make the most of their time on the snow. Let them experience snow sports in NSW!
Articles related to your search: