Cross country skiing for kids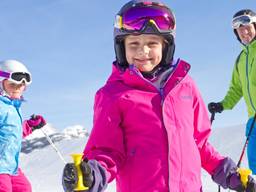 Children enjoying the snow through cross country skiing
Cross country skiing for kids is a different activity than snowboarding. Although both are seasonal sports done usually in winter, ski equipment and concept is different than in snowboarding. Cross country skiing is also a known winter Olympic sport that is enjoyed by many and is a good starting point to get your children interested in Olympic Games.
Category: Sports
Approximate age to start cross country skiing: 5 yrs. old
Approximate price: $200
Gear/equipment needed and approximate price range: Ski equipment package - $120-$180
This activity comprises of: Classes
Best period of the year: Winter
Most appropriate region: Victoria, NSW, Tasmania, and Australian Capital Territory
School holiday programs available: YES
A video of Cross country skiing for kids
Kids having fun at a cross country skiing relay
Information on Cross Country Skiing for Kids
Is cross country skiing for your kids?
Are your children looking for fun and adventurous winter activities for kids during the season? Among the many winter sports out there such as hockey, alpine skiing, and figure skating, cross country skiing is a great family sport that lets you enjoy the winter scenery along with your children.
Cross country skiing, also known as Nordic skiing or ski touring, is good cardiovascular activity for your children. It is said that most cross country skiers are the healthiest people, as it promotes healthy lungs and heart from the activity itself. It also is a good form of exercise for your children's joints as it serves a low impact workout for them, and it also provides a good amount of endorphin rush from the sensational views that you and your children will see while cross country skiing. Unlike other winter sports such as alpine skiing, cross country skiing rules does not require them to go downhill for the fact that the sport mainly focuses on a flat snow surface and scenery.
Children as early as 5 years can engage in cross country skiing because it one of the relatively mellower kids activities that does not impose any dangers early on training for your kids. Kids can simply enjoy the views of the terrains with their fellow cross country skiing classmates or with family. If your children are more active and are seeking for a higher adventure level of winter sports, alpine skiing and snowboarding are your alternatives.
As for toddlers, cross country skiing may not be a great kids activity for them as they may be too young to engage in tackling wide distances and handle the responsibility of the equipment. As for competitive winter sports, you can sign up your children to hockey and speed skating.
Get your kids to start cross country skiing!
Are you considering letting your children try cross country skiing for kids? The interest fact about cross country skiing is that it is not as expensive of a sport as people thought it is.
Cross country ski equipment only requires skis, boots, bindings and poles. These are usually bought by set or by ski packages with great values in various stores and resorts in Australia. Ski sleds for kids are found at any sports stores that sell various sports equipment. Ski sizing for kids are dependent on their weight and size.
Ask assistance from a sports store to fit ski sleds for your children as they have charts to determine the best fit for safety and movement. As for ski lessons, resorts and trails offer group session classes or family classes that will also promote your child's social skills, while also giving a great bonding experience with the family.
For more information on other winter sports in Australia, check our ActiveActivities directory for more information and alternatives for your children!