Snowboarding Clubs for Kids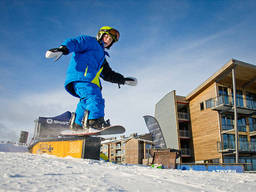 Snowboarding is a popular advanced snow sport among kids today.
During the winter season, don't just let your children stay in the house and watch the tv or just play video games. Encourage them to be active. The most fun outdoor activities for kids are winter sports. Being naturally energetic, participating in winter sports is a great way to burn their energy, while having fun and keeping fit. Snowboarding, introduced in Australia in 1998, is a popular snow sport among kids today. Almost like skateboarding, snowboarding also has some tricks and stunts that are performed by experienced riders. Get your kids to learn this cool sport. Let them join snowboarding clubs for kids!
A video of Snowboarding Clubs for Kids
Bailey Duran is only 6 years old but she is already really good at snowboarding! Want your kids to be just like her? Then enroll them to snowboarding clubs at a young age!
Information on Snowboarding Clubs For Kids
Are snowboarding clubs for your kids?
The earlier that your kids get involved in snowboarding, the more it becomes possible that the sport may become their lifelong passion. Sports clubs like snowboarding clubs will not only give them something fun to do during the winter, it is also a great way to develop their interest. Your kids will also get to learn skills that they can apply to other sports as well as other aspects of their lives.
Physical fitness
Kids must remain physically fit and active all year round. The winter season should not be an excuse not to go out and do some physical activities to burn off some energy. With winter programs for kids, they now have more choices on how they can spend their winter holidays outdoors. Winter kids activities can also help improve sense of balance and muscle strength.
Good stamina and athleticism
Snowboarding is a good form of exercise that helps tone the body. It is also a great cardiovascular workout, helping burn the calories.
Confidence
Snowboarding helps improve a child's confidence and self-esteem. Snowboarding clubs provide snowboarding lessons that teaches techniques that gets hard every time your kids advance to a level. This will allow them to try harder and to discover their own potential.
Get your kids to join snowboarding clubs!
Kids are recommended to join snowboarding clubs at the age of 7, but some snowboard schools accept toddlers as young as 3 years old, provided that they have enough lower body strength to control the snowboard. In the beginner's classes of snowboarding lessons, kids learn how to snow ski. Ski lessons teach basic skills that are also essential in snowboarding like balancing. They need to learn to balance with ski poles before they start balancing sideways on a snowboard. There are ski clubs for kids for the younger ones who need to learn the basics.
Aside from teaching beginners how to snowboard, snowboarding clubs also aims to produce great snowboarding athletes out of everyone who wishes to develop snowboarding fundamentals and prepare for snowboard competitions.
It is best to enrol your children in snowboarding clubs with winter programs with trained professionals as instructors. You can check our ActiveActivities Directory for a list of available snowboarding clubs around Australia, as well as other fun snow activities or snow sports for kids of all ages, from babies to teens.
The key to a happy and safe family holiday at the slopes is for kids to attend lessons. In snowboarding clubs, kids will get to have a healthy lifestyle and learn new skills, while being with friends in a child-friendly environment!