Snowboarding for kids in New South Wales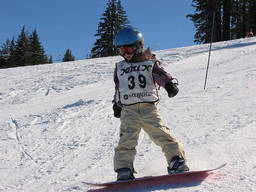 Her first snowboarding race!
New South Wales is the home of the highest mountain in South Australia, Mt. Kosciuszko. It is also home to the oldest ski fields, and largest ski resorts in the country. Snow sports for kids are the most fun activities for kids in NSW. Make sure that your kids experience them. Go to NSW for the most memorable ski season!
A video of Snowboarding for kids in New South Wales
Perisher is Australia's largest ski resort. Snowboarding and ski schools here are offered to kids ages 4 to 14. Take a look at this video and see how thrilling playing snow sports in Perisher can be.
Information on snowboarding for kids in New South Wales
Why snowboarding in New South Wales is a great activity for your kids?
Snowboarding and skiing are some of the few sports that the whole family can enjoy together, regardless of age. The winter season starts in mid-May and can last up to mid-October; plenty of time to experience and enjoy all the fun kids activities, as well as the most spectacular mountain peaks and world-class skiing resorts for kids and families found in the highest mountain range in Australia, the Snowy Mountains, located in southern NSW.
Selwyn Snowfields
The beginners' paradise, Selwyn is the favourite winter family playground in Australia because of its relaxed, family-friendly atmosphere. Snow activities range from snowboarding to alpine and cross-country skiing, to adrenaline-pumping snowtubing. Snowboarding in Mount Selwyn is ideal for beginners as it has a beginners' area. Snowboarding and ski lessons are also offered in the friendly ski school located there. Accommodation packages for kids can start less than $45 per day.
Charlotte Pass
The highest and most isolated ski resort in Australia offers shorter ski runs for both beginners and advanced ski enthusiasts. The resort provides lots of children's activities including the beginner's area the slope with a rope tow, free of charge. Snowboarding and skiing lessons are also offered that can cost around $50. Private lessons are offered to kids younger than 5 years old, while the older kids can attend group lessons.
Thredbo
Go for a ski in Thredbo and experience the longest ski run in Australia, with a vertical drop of 672m. Thredbo Ski School offers programs for snowboarders and skiers of all ages and levels. The beginners' area called Friday Flat is purposely built on the base, where the gentle slope can be accessed by a carpet lift. Terrain parks and access to the main mountain lift system are available to beginner, intermediate, and advanced snowboarders. The main attractions in Thredbo are the extreme sports including snowboarding, skiing, and cross-country skiing.
Jindabyne
Jindabyne serves as the gateway to the ski resorts in Snow Mountains. This is the place to rent snowboarding and ski gears and equipment, if you forgot to bring your own. Accommodations in Jindabyne also tend to be cheaper than those in the resorts. Jindabyne is about three hours' drive from Canberra, and 60km west of Cooma.
Perisher
Australia's largest ski resort, snowboarding in Perisher will not only get you thrilled, but will also let you appreciate some of the best and most fantastic scenery of Australia. The Perisher resort has slopes that are ideal for beginners and little kids. The ski and snowboarding school offers programs for different age groups – 4 to 6 years (ski lessons only) and 6 to 14 years (ski and snowboarding lessons).
If you think snowboarding or skiing is not for your kids, they can still enjoy the winter holidays at the Snow Mountains in NSW with other winter activities that are as enjoyable and exciting. In Jindabyne your kids can try horse trekking and fishing. At the resorts at the Snowy Mountains they can go for mountain biking, guided tours, or playing at the leisure centres. Visit our ActiveActivities Directory for a list of child-friendly accommodations and tours available at the Snowy Mountains.
Even when it's not winter, spending the holidays in NSW is still worthwhile. Year round activities at the Snowy Mountains include rock climbing, horse riding, tennis, and swimming.
New South Wales can be the best winter playground during the ski and snowboarding season. Let your kids brave the snow and go snowboarding in NSW!