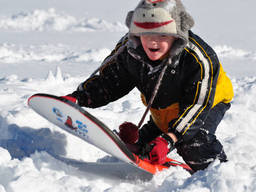 Sledding on the snow is very fun, as this excited boy shows.
Prevent boredom by giving your kids more activities to choose from. Introduce them to snow sports!
Health specialists recommend that kids should have an hour of exercise daily. But during the winter, kids tend to prefer to just stay inside the house where it?s warm and comfortable. But who says they can?t be active and have fun outdoors during the cold weather? Studies show that kids who spend more time outdoors are least likely to feel stressed. Add some excitement to their winter!
Snow sports, also called winter sports, are the sports played on snow or ice. They are of course traditionally played during the winter in snowy areas. But snow sports can still be enjoyed all year round ? even in the places where it doesn?t snow ? with artificial snow and ice. There are individual snow sports and team snow sports. Winter sports also have their own multisport events like the Winter Olympic Games.
Below is a list of snow sports that your kids might enjoy:
Skiing
One way for your kids to enjoy the slopes is to take them to fun kids activities like skiing. Snow sports beginners are advised to learn skiing first before advancing to other snow sports. This will allow your kids to develop balance. At around age 4, your kids can already start learning how to ski. Enrol them to a ski school where instructors specialize in teaching kids. Ski schools also group the students by age and skills so that they can be taught according to their needs. This will also allow them to make friends easily.
Ice Hockey
One of the most fun winter activities for kids is Ice hockey. It is played on a 200 feet x 85 feet ice rink where two teams play against each other in scoring goals. Each team has forwards, defence players, and a goaltender that prevents the puck from hitting the net. The rules of this game are almost similar to football.
Ice Skating
If your kids are interested in ice hockey, they must first learn to skate on ice. Kids can start learning this sport at around age 3. Ice skating can be enjoyed during any time of the year in indoor ice skating rinks. Some kids have to wait for winter so they can ice skate on local frozen pond and lakes as they are more accessible. Just remember to look for signs that indicate that the ice is thick and solid enough for skating. It is advisable to skate around the edge of the pond where the water is shallow and the ice is thicker.
Snowboarding
Most snowboarding programs accept kids 6 years and older. Before trying the sport out, they can define their best snowboarding stance first by trying to slide across a floor made of wood while wearing socks. The foot that goes naturally forward identifies their best stance. It is important for kids to learn skiing first before snowboarding as the former will teach them how to balance.
Sledding
For kids who are not as sporty, sledding is ideal. It also doesn?t require expensive equipment and lessons. It only requires a simple sled which can be improvised out of recyclable plastic or wood cafeteria trays, trashcan lids, and sheets of cardboard.
A video of Snow Sports For Kids
Keep your kids active even during the winter. Here is a video of some kids braving the snow at a ski resort in NSW.
Information on Snow Sports For Kids
Are snow sports for your kids?
Encouraging your kids to engage in snow sports and sending them to snow sports schools and camps can be a very rewarding experience. Not only do they get to have fun in the snow, they will also receive benefits that can affect every aspect of their life.
Balance
Most of the snow sports involve going up and down the slope. Such sports will help your kids develop skills like balancing and coordination. Going up a hill can help in developing endurance.
Entertainment
Learning and exploring new things will give your kids more options on how to spend and enjoy their idle time. More things do means that they will never get bored.
Positive Attitude
Studies have proven that kids that are physically active are more likely to excel in school.
Playing in the snow can be hazardous. It is important that your kids have adult supervision at all times. Always remind them of the safety precautions that they should take. The appropriate snow clothing includes a hat, coat, layers of clothes, gloves, and a scarf. Also make them wear boots, goggles, and a helmet. Choose fabrics that are waterproof and can absorb heat like wool. Avoid cotton because it cools down the body. Arm them with the proper snow sports gear. A ski gear includes skis, ski boots and poles that you can buy from ski shops. You can also hire snow sports equipment at snow rentals. As it is very dangerous and many rules need to be followed, it is much recommended to get your kids to a ski or snowboard school (or whatever winter sport he/she chose). Instructors will take them to safe spots where to learn step by step how to ski. If you decide to take them yourself to a spot to teach them the basics, take as few risks as possible and ask a specialist for advice, at a ski school for example. In choosing an area for sledding, skiing, or snowboarding, avoid steep slopes and choose a clear path ? no rocks and trees. Educate your kids on obeying slope signs.
Some kids may not be as interested as other kids when it comes to snow sports and other related kids activities. Other than winter sports, there are also there ways for your kids to have fun in the snow. They can play snow games like creating a snowman and other figures, or maybe building a snow castle. Lying on the snow and forming a snow angel is fun too.
Keep your kids physically active even during the winter. You can get started by enrolling them to snow sports camps and schools. Many snow sports camps in Australia accepts kids ages 8 to 16 years old. 10-day training costs more than $1000. You can browse our ActiveActivities Directory for a list of snow sports schools in Australia and other helpful tips about snow sports for kids.
Get your kids moving! Braving the snow is all worth it when you see the smile on your kid?s face. Keep them fit and healthy by encouraging them to play snow sports!
Articles related to your search: