paddle sports for kids in the Perth Region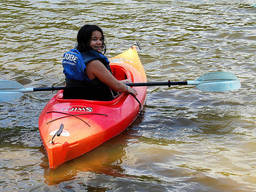 Kayaking on the calm waters of Perth.
When in Perth, Western Australia, it is a must to take part in water sports. Perth is located on the banks of a large river surrounded by over 12,000km of pristine coastline, making it an ideal holiday destination for water sports enthusiasts. Activities for kids in the Perth region include thrilling water sports for kids like jet skiing, surfing, and paddle sports. Get wet in Perth!
A video of paddle sports for kids in the Perth Region
Theme parks in Perth, including Adventure World, have recreational paddle boats that have paddle wheels, controlled by the use of pedals.
Information on Paddle Sports for kids in the Perth region
Why paddle sports in the Perth region is a great activity for your kids?
Paddle sports are one of the popular water sports that your kids can try in Perth beaches. Paddle sports include:
Stand-up paddle boarding
Stand-up paddle boarding is one of the latest paddle sports that are in with the kids today. People stand up on a board similar to a surf board while holding a paddle, almost like boating, but standing on a board instead of sitting on a boat. Stand-up paddle boarding is a nice way to just relax on the calm water while admiring the surroundings.
Paddling
Paddling includes canoeing and kayaking for beginners, and whitewater rafting for the more experienced and adventurous. A lot of people get confused with canoeing and kayaking. Most canoes are open boats, with canoeists sitting with their legs underneath them. The paddle used in canoeing only has one blade. Kayaks, on the other hand, are closed boats, with kayakers sitting on the floor of the boat with their legs in front of them. The paddle used in kayaking has blades on each side of the shaft.
Australian beaches are some of the most stunning beaches in the world, many of them found in Perth region. The beautiful sandy beaches of Perth have calm waters that are safe for swimming and paddle sports, but can also develop rips and strong currents that surfers can ride.
Cottesloe Beach
Rottnest Island
Scarborough Beach
City Beach
Mettams Pool
Rockingham
Brighton Beach
Other water sports popular among kids are kite surfing, windsurfing, and surfing. Surfing in Perth is a fun experience since Perth beaches offer great waves, during both summer and winter. Your kids can join surfing clubs in WA where they can avail surfing lessons. There are also lessons available in Perth beaches for paddle sports. Hires for stand-up paddle boards and other paddle sports equipment can also be found all over the city. To find out the location of these paddle sports hires and lessons, you can browse our ActiveActivities Directory. It also contains more suggestions on things to do with your kids in Perth, as well as other kids activities.
Allow your kids to have the best summer ever! Let them have fun under the sun doing Paddle sports in the Perth region!
Articles related to your search: