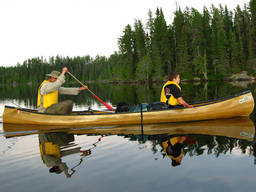 Let your kids paddle around in the water for a relaxing way to keep fit!
Paddle sports involve paddling a boat or board with a specially designed paddle on a river, lake or ocean. With a number of different types of paddle sports to choose from, your child can pick whatever suits them best!
A video of Paddle Sports For Kids
Paddle sports like kayaking and canoeing is not only a sport but also a leisure activity where you and your kids spend quality time in the outdoors.
Information on Paddle Sports For Kids
Are paddle sports for your kid(s)?
Do your kids enjoy being out on the water? If they are confident around water and enjoy water sports, there's every chance they're going to love being involved in paddle sports. There are a range of different paddle sports to try including:
Stand up paddle surfing
Surf kayaking
White water rafting
Adventure kayaking
Kids can start kayaking and canoeing from as young as 3 or 4 years old although you might want to hold off on the white water rafting until they are a bit older! Paddle sports can be as exciting or gentle as you like so whether your child is a relaxed kayaker or a thrill seeking white water paddler, paddle sports may suit them. There are plenty of benefits that could come from being involved in paddle sports including:
Improved fitness
Increased flexibility
Increased upper body strength
Chance to get out in the fresh air and sunshine
Can improve confidence and water safety
Great activities the whole family can enjoy
Are you concerned that paddle sports would be too dangerous for your kids? Any water based sports can be dangerous so supervision and having the right safety equipment are essential. Ensure your child knows how to swim before getting them involved in any water based sport or kids activity. Make sure your child wears a life jacket at all times, choose locations suitable for beginners, and consider beginning with a lesson or two.
Is your child not confident in the water? They might prefer other outdoor sports and kids' activities such as hiking or golf.
Get your kids to start paddle sports!
Are you looking for a way to get your child started with paddle sports based activities for kids? There are plenty of places to do paddle sports in Australia, why not check out our ActiveActivities Directory for ideas? Whether your kids want to learn how to steer a kayak or how to stand up paddle, there is probably a school in your area to teach them!
Paddle sports are usually quite affordable with kayak hire starting at $20 an hour and tuition around $120 for a day course. Paddle sports are versatile and great family fun and can be a wonderful way for your kids to get some fresh air and make new friends!
Articles related to your search: