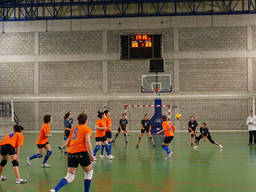 Volleyball is an ideal sport to introduce to young kids because it can be played both indoors and outdoors.
Volleyball is one of the most popular competitive and recreational indoor sports and outdoor sports for kids in Australia and in the world. The Australian Volleyball Federation, or Volleyball Australia, is the governing body responsible for the administration of volleyball in Australia. The organisation aims to encourage and administer all forms of volleyball throughout Australia.
The purpose of teaching children how to play volleyball and other activities for kids as such is for them to develop a passion for the sport or activity as well as to provide them more opportunities to spend their time and burn their energy in a fun and meaningful way. With volleyball for kids, they get to keep fit and active while playing with their friends!
A video of Volleyball for Kids
This seven year old girl can serve and spike really well!
Information on Volleyball For Kids
Is volleyball for your kids?
Toddlers can start playing volleyball while they are learning balancing and coordination. Teach them basic volleyball skills such as passing and tossing with softer and safer alternatives to volleyballs such as balloons and smaller balls that are easy to toss around. They can also learn a lot about volleyball by watching volleyball games. But they can understand this ball sport and the rules more by actually learning to play it. The six basic skills mastered in competitive volleyball are serve, pass, set, attack, block, and dig.
Volleyball requires high levels of endurance, flexibility, speed, and agility. You can encourage your children to learn volleyball by sending them to volleyball camps for kids that offer programs including volleyball for beginners. Sports camps and clubs are the ideal way to make sports lessons and training more fun. Volleyball camps and clubs that specialise in teaching kids conduct volleyball drills that help them develop the required skills; and they also make it more enjoyable by incorporating kids games and other fun kids activities to keep them engaged.
There are different types of volleyball that enables your kids to enjoy the sport wherever they are. They are: beach volleyball, indoor volleyball, and outdoor volleyball. Volleyball rules are the same for all these types; just a little bit modified to adapt to the location, the number of players, and also to whether they are playing it as a competitive sport or just for leisure.
Volleyball is also a great way for the family to spend time together. Bring a ball on your next family day out or enjoy it as a family pastime in your backyard. Kids can also join volleyball leagues in schools and communities to help reinforce their skills especially if they want to turn their hobby into a serious endeavour.
Click on our ActiveActivities Directory to find the nearest sports centres and clubs, as well as the schedule of sports camps that offer volleyball lessons and training for kids. We also provide tips and ideas for great activities for your kids including babies, toddlers, and teens.
Encourage your kids to engage in activities that help develop a healthy lifestyle in them, as well as to encourage physical activity. Volleyball is an ideal sport that they can learn because they can play it indoors, outdoors, on the grass or even on sand. Invite them to play a fun and non-competitive game of volleyball on the weekend. Ask their friends to come over, too!
Articles related to your search: