Beach Volley For Kids In Sydney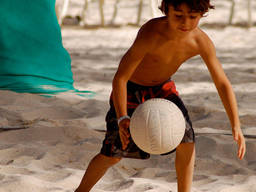 Sydney has lots of white sand beaches where your kids can play beach volley.
Get fit while having fun in the sun!
Beach volley is one of the most popular beach sports and recreational activities for kids, as well as for teens and adults. Rules of beach volley are the same as regular volleyball Ð two opposing teams score by grounding the ball on the other side of the net. It is made more challenging on the beach since it is difficult to play on sand. Beach volley is played in Sydney almost all year round, especially during weekends. Sandy white beaches are numerous in the Sydney region and are very accessible to everyone living in the region. Beach volley in Sydney is one of the many land and water activities you and your kids will surely enjoy.
A video of Beach Volley For Kids In Sydney
The little ones can use beach balls instead of real volleyballs in playing beach volley. Beach balls are softer and wouldn't hurt if ever the kids get hit.
Information about Beach Volley In Sydney For Kids
Why going to beach volley in Sydney is a great activity for your kids?
Where to play beach volley in Sydney? The most popular beaches in Sydney are the following:
Northern Beaches
Manly Beach
Manly Beach is famous for surfing, scuba diving, sailing, and beach volleyball. Its blue waters and the mountainous backdrop are what make it an attraction to visitors. Manly Beach also offers boat and kayak hire, the Oceanworld, and art galleries and museums. Give your kids a try at beach volley in Manly!


Palm Beach
You will never run out of things to do in Palm Beach. Other than beaches, it also has parks and sporting areas where your kids can play beach volleyball and other beach games.
Southern Beaches
Coogee Beach
Cooge Beach is one of the finest sand beaches in Australia. It has beautiful coastal walks, outdoor picnic facilities, and playground for kids. Contact the Coogee Beach Volley association for more information.


Bondi Beach
Bondi Beach is one of the internationally renowned beaches in Australia because of its 1km stretch of clean, white sand. Take your kids to Bondi Beach to see the whales and dolphins. In 2000, Bondi beach hosted the Beach Volleyball Olympics held at the temporary Bondi Beach Volleyball Stadium, which had a 10,000-seating capacity. Bondi also hosts other fun events such as Flickerfest (Australia's short film festival), World Environment Day, and Sculpture by the Sea.
If your kids love being active as much as they love white sand beaches, then it's time to invite them to play beach volley in Sydney!
Beach volley is a great activity for your kids. It keeps them active, fit, and healthy. It is also a fun and exciting way to spend their holidays on the beach. Sydney is a perfect summer destination. The beaches are beautiful and there are so many activities you can choose from. Beach volleyball is the true definition of outdoor fun. Your kids get to play while enjoying the breeze and the wonderful scenery. Sydney, which has a 350km coastline of bays and beaches, has more beaches compared to other regions of NSW. Some are even included among the best beaches in the world.
Health experts suggest that kids should have an active lifestyle. On school holidays, taking a break from school doesn't mean taking a break from being active. Get them to engage in nature activities. If your kids like playing volleyball, beach volleyball is no different. Take their hobby with them while on vacation. If your kids haven't tried beach volleyball yet, introduce this exciting activity to them! There are beach volley classes and beach volleyball schools available in Sydney's beaches that provide coaching from trained instructors.
After they experience how fun playing beach volleyball is, they might want to take their passion for the sport to the next level. Enrol them to beach volley clubs and leagues that will help them enhance their skills. They will get to join tournaments that will allow them to experience friendly competitions and learn teamwork and good sportsmanship.
You don't think playing beach volley in Sydney would be a good activity for your kids? They can still enjoy their vacation at Sydney beaches with other activities that are equally enjoyable. If they like water sports, they can go surfing at Bondi or Manly Beach. Out-of-the-water activities are also available like horseback riding, bicycle riding, and bungee jumping. If your kids are not the adventurous type, you can go kayaking with them and explore the water and the amazing views that surround the beaches. They can also enjoy simple activities like making sandcastles and sun bathing.
Beach volleyball need not be an expensive activity. There are public grounds among Sydney's coastline that everyone can access for free. Your kids can play beach volley with their friends there. Beach volley lessons for beginners can start from around $25. Club memberships can cost around $65 per year. Beach volley equipment is also not too expensive. They only need a ball, net, appropriate beach clothing, and kneepads. Most of the time, beaches already have nets set up.
For more fun holiday kids activities, feel free to browse our ActiveActivities Directory .
Holidays are perfect moments to spend some quality time with the whole family. Play some beach volley in Sydney with your kids!
Articles related to your search: