Rugby Union School Holiday Camp For Kids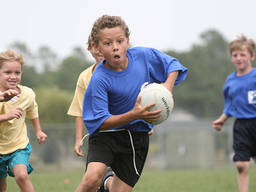 School holiday kids camps are where great childhood memories happen. Even during the school holidays, they can still play and learn in a fun and safe environment through these camps. They can even gain new friends! If want your kids to achieve an active and healthy lifestyle, then school holiday sports camps might be good for them. With fun games, drills, exercises, and activities for kids, sports camps provide for optimal child development. Among the sports summer camps, soccer and rugby camps are the most popular. Why not send them to a rugby union school holiday camp for kids?
A video of Rugby Union School Holiday Camp For Kids
National Rugby Camp is the largest rugby camp in Australia, held every January in New South Wales. Watch the highlights of some of the camp's activities and see if this is something your kids would love to attend during the school holidays.
Information on Rugby Union School Holiday Camp For Kids
Is a rugby union school holiday camp for your kids?
Australian Camps Association found in their 2008 report that outdoor education helps improve children in the physical, emotional, and spiritual aspects. Outdoor school holidays camps like rugby union school holiday camps are perfect tools to help your kids improve in the said areas. The Australian Rugby Union runs a number of rugby union school holiday camps to train aspiring rugby players of all ages and levels of experience. Most rugby schools host school holiday programs for kids to develop and improve their skills. Exposing your kids to rugby coaching techniques in camps will give them the following benefits:
Full Attention
Rugby union school holiday activities will help fine tune and develop skills. Enrol your kids to camps that have small coach-student ratio to ensure that full attention and maximum development of potential are given to your children.
Confidence
The camps provide coaching that aims to help your children have confidence in their rugby abilities.
Fun and Socialisation
Sports camps like rugby camps are great way learn more about the sport they love while making new friends.
Fitness
Camps help improve kids' fitness and encourage them to lead a healthy lifestyle.
Get your kids to attend a rugby union school holiday camp!
Kids starting 5 years old can start joining rugby union holiday camps. The Australian Rugby Union offers a program called Try Rugby, designed for kids aged 5 to 8 to develop motor skills in a safe environment. Then they advance to learning junior rugby union through the Junior Player Pathway program. The sport is introduced to the kids in three modified versions ? Walla rugby, Mini rugby, and Midi rugby. After this, they can already progress to participate in an actual rugby game, and join rugby union clubs.
A rugby union school holiday camp normally lasts for a day up to two weeks. Some are day camps, while some are overnight camps, with round the clock adult supervision. Make sure that the rugby union school holiday camp that you will choose for your kids are endorsed by the Australian Rugby Union. Rugby camps can cost around $55 to $125. Visit our ActiveActivities Directory to check the available camps in Australia. Our directory also covers some cool school holiday ideas and kids activities for all ages ? babies, toddlers, and children.
If your kids love sports but are not into contact sports like rugby, you can send them to non-contact sports camps like soccer camps and basketball camps. Other school holiday camps include adventure camps, workshops, and nature camps.
School holiday camps are perfect holiday entertainment for active kids, with a lot of energy to burn. If your kids are interested in sports, whether they like to try out a new one or want to train more in a particular sport, there are sport camps for every age and level of ability that are suitable for them. Get them to try learning rugby!
Articles related to your search: