School Holiday Camps For Kids In WA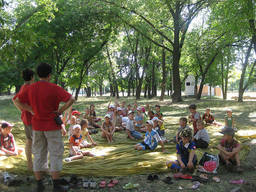 School holidays for kids in Western Australia can be a time to relax and do leisure activities all day. But a day will come that they will get tired of doing the same things in the house over and over again. Have them experience a memorable holiday by giving them more fun and exciting options to spend it. Spending time at school holiday camps is an interesting way to keep them active and occupied. Active kids are happy kids!
A video of School Holiday Camps For Kids In WA
There are various school holiday camps in WA that your kids can join. One option is a trick camp where your kids will learn stunt riding on a pony.
Information about School Holiday Camps In Wa For Kids
Why school holiday camps in WA are great activities for your kids?
Child care in WA, as well as other states of Australia, is the most important concern of every parent. It is important that kids grow up to be healthy and fully capable in all aspects Ð physical, mental, and emotional. School holiday camps in WA come in many forms, depending on your kids' interests. There are adventure camps and sports camps, and just about anything that includes activities for kids that will allow them to have fun, learn, and develop new skills in safe and supportive environment. School holiday camps are also places where kids can be themselves, where they can indulge in fun learning activities with other kids their age.
The most ideal school holiday to send your kids to school holiday camps is during the summer, as most camp activities are done in nature and require a dry weather. Some summer camps in Australia, including WA, are conducted by non-profit organisations and youth groups, such as the Boys and Girls Brigade, and the Scouts. School holiday camps can be day camps or overnight camps. Day camps are for primary age kids that last for a week, while overnight camps are for older kids.
Be it for recreational or educational purposes, there are school holiday camps in WA that will definitely suit your kids.
Art camps
Kids who show potential in the arts could attend either creative or performing arts workshops. Art camps have programs that focus on a particular area, such as handicrafts, painting, drawing, theatre, music, and dancing. There are also camps that focus on general creative and performing arts skills development. Art camps often have culminating activities that parents can attend.


Adventure camps
Adventure camps in WA often have specific themes that emphasise skill development and personal growth. Adventure camps often include exciting kids activities like hiking, camping in the woods, and other activities that teach survival skills.


Sports camps
Sports camps offer instruction in a wide range of sports. Your kids can attend a sports camp that focuses on a specific sport to hone their skills or to learn a new sport. A multisports camp is also recommended to kids who are just starting to get into sports and are still finding out what sport might be the best for them.


Training camps
Training camps focus on developing leadership. This is the aim of most youth groups: for campers to develop life skills that enable them to grow into efficient and responsible citizens. Training camps have balanced programs so every kid, energetic and not-so-energetic, can participate and have fun.
Before enrolling your kids to any of the school holiday camps, there are some points that you need to consider first. In our ActiveActivities Directory, you can find a full list of available school holiday camps in WA. You can research about these camps to find out if they have round-the-clock first aid personnel available and trained adult supervision.
Don't think school holiday camps are for your kids? You can still provide them an unforgettable school holiday by taking them to theme parks, museums, beaches, and other notable places in WA that can be educational for kids, and at the same time, be enjoyable.
There are plenty of activities to keep kids entertained during the school holidays. Get them out and about with school holiday camps!
Articles related to your search: