Three Reasons to attend a Drama camp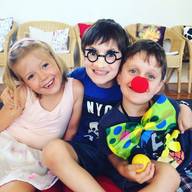 Every holidays, a myriad of workshops and camps pop up, providing students with opportunities to extend their skills and talent outside of the school setting.

Drama camps are a great place for students to explore their creativity and build their self-confidence in a relaxed, friendly and fun environment.

Here are three reasons you should consider a drama camp for your child:

1. See things from a new perspective
In drama, you can become anyone. By becoming anyone, you learn to see things from a different perspective. Drama students are empathetic, and they form opinions and ideas around everyday concerns. Drama asks you to think critically, imaginatively and creatively. Students connect to their own thoughts and ideas, to the experiences of others, and to their audience. It is an active and experiential learning environment that is also heaps of fun! Students don't always realise that in the various drama games and activities they are learning crucial collaboration and communication skills.
2. Work collaboratively in a team
There is a strong emphasis on group work. Students work in their age groups to develop their performance skills by creating characters, stories, scenes and plays. They listen to each other's ideas and have to accept different suggestions. If anyone says "no" to someone's idea, it halts the process entirely. So students learn to accept ideas other than their own, to compromise and build on different suggestions. Their minds are opened to different ways of approaching a topic. They encourage each other to think outside the box.

3. Develop life skills
The benefits are endless. In every activity, whether it's a warm up game or more intense scene-building exercise, students are developing their ability to verbally express their ideas and articulate their thoughts clearly. By developing their speaking and performance skills in this way, they build their self-confidence and self-expression. They learn the skills of listening, negotiating and communicating - essential to any learning environment, and vital to their professional lives when they grow up!
For more information about drama camps, please contact the expert contributor.
Articles related to your search: