Basketball school holiday activities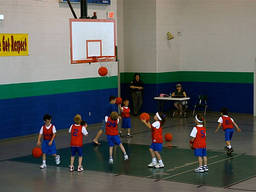 Kindergarten boys and girls score some shots at a basketball camp
Basketball is one of the most-viewed sports in the history of team sports. Some parents have probably noticed that toddlers and children are instinctively hooked into basketball for kids. Basketball is a common denominator when it comes to activities for kids. Rain or shine, basketball is widely played not just in Australia, but all over the world. Basketball school holiday activities are the best pastime for kids' activities.
Category: Sports
Approximate age to start (name of activity): 3
Approximate price: Average price of $300
Gear/equipment needed and approximate price range: basketball ($20), basketball camo ($300/week)
This activity comprises of: coaching, dribbling, passing, retrieving, basketball camp for kids, training
Best period of the year: all year round, school holiday camps
Most appropriate region: Australia.
School holiday programs available: YES
A video of Basketball school holiday activities
Youth basketball players doing amazing trick shots at Perth!
Information on Basketball School Holiday Activities for Kids
Are basketball school holiday activities for your kids?
If there is probably one physical sport which parents would easily allow their kids to enrol to as one of their school holiday programs, it has to be basketball. The sport doesn't even have to be played only during school holidays. Families and friends get together to shoot some hoops and celebrate with a barbecue after a good game of basketball. Basketball school holiday activities are widely held activities for kids - regardless of the age bracket of players.
Compared to other team sports, it is not as complicated and physical. Children can participate without spending too much time to learn. Basketball school holiday activities can be a perfect time to teach them the basics like dribbling, passing, and shooting. Not that hard, right? The only thing you probably have to wait for is the time when toddlers are really able to run.
Basketball school holiday activities are widely held all over Australia. You can find a lot of basketball camps or basketball clinics where your children can actively participate without sitting on the bench for too long. ActiveActivities Directory is an excellent source for kids activities, such as basketball school holiday activities. You can find excellent camps with fun-filled basketball school holiday activities which your kids will surely enjoy!
Get your kids to start playing basketball school holiday activities!
No parent would probably think twice in letting a child join basketball for kids. Various sports camps are always the best means to get your kids to stay fit and healthy. This can also teach them how to work in teams, and understand the meaning of sportsmanship. You don't really need a lot of things to get your kids to start. Just choose the best camp for basketball school holiday activities, and let your kids take on the challenge to be the next Adam Ballinger or Lauren Jackson!
What can you expect for your kids to learn from basketball school holiday activities? Sports clinics have a well-organized day-to-day plan comprising of kids activities for skills competitions. Coaches will teach your kids how to play offense and defense. Your kids will compete in:
relays
free throws
knock outs
hot shots
lay-ups
speed dribbling
one-on-one
and passing.
The advantage of enrolling your kids to camps is that they will surely practice what they learn. As soon as they pass the skills competition, they will be taught various techniques, such as the Triple Threat position.
What is the Triple Threat and how to do it? This offense position is used to get the defensive player out of his defensive stance. After receiving a pass, a player must bring the ball down to the hip level, and face the defender. Your stance must be in a slight crouch while your knees are bent and your feet shoulder-width apart. Hold the ball with your weak hand, and place your strong hand on top. Both of your elbows must be bent so they are approximately at right angles. If you're already in this position, your three options are either to pass the ball, dribble around the defender, or shoot the ball.
Practice this technique with your family and friends! To learn more techniques, check out ActiveActivities Directory to see a list of camps which offer basketball school holiday activities!
Articles related to your search: