5 questions all parents should know the answer to before they select a basketball camp for their child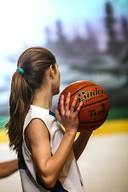 Choosing a basketball camp can be a difficult decision.

Here are five questions you can ask to help simplify the process and ensure you get your money's worth and that your child gets the excellent instruction that will help him or her improve their skills and develop a greater love for the game.

1. Does the camp focus on players having fun and developing a real love of the game?
When it gets down to it, kids are still kids. While your son or daughter wants to improve their basketball skills, they also want to have fun. A camp that marries the two, making practicing the game of basketball fun and exciting, is a camp that is going to help your child excel. A fun camp, that is also instructive, will help your child nurture a real love of the sport. Those players who don't develop this love when they are young are to get burned out and give up playing all together.
2. Is the camp staffed by passionate coaches who love to teach the game?
Just as a highly-qualified teacher can have a dramatic positive effect on students in the classroom, a passionate, highly effective coach can make a huge difference in the progression of a player's skills. That type of coach will inspire and encourage players and will get them to focus on strengthening weaknesses and improving their strengths even more. Make sure the camp you are considering sending your son or
daughter to has highly-qualified coaches who love to teach the game.
3. Does the camp focus on building complete players instead of just completing "skills and drills"?
Many camps don't put "the big picture" first. All they want to do is keep players busy. But there is much more to being an elite basketball player than just completing drills. Players must also work on their understanding of the game, their basketball IQ. They must know what to do in different situations and they must learn to deliver in the clutch. A good camp will focus on all of the following, and not just on drills:
- Building leadership, sportsmanship, self-confidence;
- Building complete, all-around players;
- Teaching kids life skills that they can use both on and off the court to help their development as players and as people;
- Focusing on fitness, health and proper nutrition to perform at your best
4. Does the camp offer age-appropriate training?
It's been said that it takes 8 to 12 years of training for a talented player to reach an elite level. This is known as the 10,000 hour rule. Unfortunately, many parents and coaches try to rush the development process and use adult training methods with younger players to get a head start on the time required. This is a short-sighted approach that puts an over-emphasis on immediate results at the expense of long-term individual development. The overemphasising of competition in the early phases causes shortcomings in athletic abilities later because the athlete never achieves a base level of athleticism. Most players who are subjected to this flawed training approach
see their careers end prematurely. In fact, studies show that 70% of kids quit sports by age 13, with this flawed training approach
being a major reason why. In other words, make sure the camp you select offers age-appropriate training.
5. Does the camp have a low player to coach ratio?
A ratio of no more than 12 players to one coach is considered ideal. This will allow coaches to give the players under their watch individual instruction. Without individual instruction, players' flaws and weaknesses can go uncorrected and grow worse over time… having a bigger negative impact on their performance. At the Junior Basketball Academy, we create our basketball camps on the strong foundation that is made up of the answers to the questions above. Our camps feature age-appropriate learning, low player to coach ratios, highly-qualified, highly-passionate coaches, training that is designed to build complete players and a fun, encouraging atmosphere.

To learn more, or to sign your child up for an upcoming camp, please contact the contributor for this article.
Articles related to your search: