Sports camps for kids in Western Australia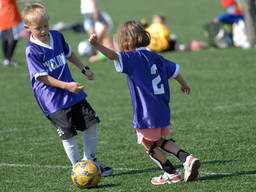 Children learning to bend it like Beckham
Even during the school holidays, you can still keep your kids fit and active by enrolling them to sports camps. In fact, the school holidays is the perfect time for children to be active in sports. Sports camps enable children to enjoy their freedom by learning and having fun with other kids. Sports camps are also an effective tool to help them gain confidence. Thinking of enrolling your toddlers to sports camps for kids in Western Australia? That would be a great idea!
A video of Sports camps for kids in Western Australia
Your kids can learn how to play today! Sports clinics provide great venues where they can learn essential skills and drills.
Information on Sports camps for kids in Western Australia
Why is Western Australia a great place for your kids to go to sports camps?
The sports camps for kids in Western Australia and in other states and territories have varieties, depending on your kids? interests and needs. There are summer sports camps for individual or team sports, as well as a multisport summer camps for kids who like to try different kinds of sports. A sports camp that specialises in one sport is good for those who want better focus on just one activity, like athletics for kids camps, or football camps.
The government of Western Australia is highly dedicated to promoting sports and activities for kids in the region. They arrange various sports programs for kids and adults alike including sports programs for indigenous Australians. They also support their local athletes in order to give them the opportunity to compete in the Olympics. Scott Sunderland, Ashleigh Nelson and Alana Nicholls are some athletes who have been able to compete internationally because of support from the Western Australian government.
KidSport is an organisation that makes it easy for kids in Western Australia to participate in sports activities by offering financial aid for kids from challenging backgrounds. Unfortunately, though, this service is only available in local governments that have signed up to be a part of the KidSport program. Some of these local governments include the City of Perth and the Town of Victoria Park. For a full list, visit their website. Edmund Rice Camps for Kids WA Inc. is another organisation that helps kids join sports camps despite financial, cultural or emotional concerns.
There are more than 2800 clubs in Western Australia, so you?re sure to find one that offers sports camps for kids that will be fun and suitable for your kids.
Get Your Kids to Start Going to Sports Camps in Western Australia!
The recommended sports programs for kids in WA that your toddlers can try are focused on some of the state?s most popular sports namely: AFL, basketball, cricket, field hockey, rugby league, soccer, swimming, volleyball, and tennis. You can find the locations and the schedules of available basketball camps and volleyball camps for kids, and all the sports camps for kids in Western Australia, in our ActiveActivities Directory.
Kids from 6 years old can join 3-Day Australian Rules football camps for $200. Meanwhile, kids from 7 to 17 can join cricket camps for $280.
Joining summer sports camps for kids can be memorable kids activities. They are a perfect summer getaway. At the same time, they will also become physically and mentally healthy and active.
There are also nice locations in Western Australia that offer sports camps in the summer. You can go diving and snorkelling and you can also go surfing in great locations like Ningaloo Reef and Turquoise Bay.
If you have a highly adventurous kid, children from 10-14 years can join DARE Adventures. They include activities like Flying Fox, Archery, Canoeing, Orienteering and Bush Walking. It?s a camp that aims to help kids develop an appreciation for the Western Australian outdoors.
Get them away from video games and get them out and about!
Articles related to your search: