School Holiday Activities for kids in Sydney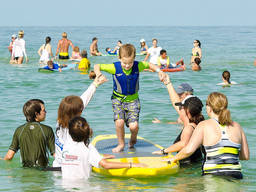 Looking for interesting ways to entertain your kids during the school holidays? Family activities are always a good option not only to fight boredom but also to have some quality time with the whole family. There are four school holidays in Sydney and NSW. Let your kids enjoy and make the most out of them!
A video of School Holiday Activities for kids in Sydney
A flash mob in Bondi Beach, Sydney, a great place to spend the holidays
Information on School holiday activities for kids in Sydney
Why are school holidays in Sydney a great time for kids activities?
School holidays are the perfect time to get your kids out and about. School holiday activities for kids in Sydney include fun kids activities for all children ? babies, toddlers, and youths, that range from outdoor activities and events, to camps and indoor activities.
Museums and Galleries
The school holidays should not be a reason for kids to stop learning. One of the fun indoor activities for kids that they can enjoy is visiting the museums and galleries in Sydney. Watch them be fascinated with the artworks as well as the different exhibits displayed ranging from stuffed animals and historical paraphernalia, to fascinating engines and other things involving science and technology. Your kids can discover so much! There are lots of museums and galleries in Sydney that offer free school holiday activities and tours. Check our ActiveActivities directory for details and dates.
Parks and Attractions
Sydney has a temperate climate. The fine weather is a great time to enjoy outdoor and adventure activities for kids in Sydney, as well as some sightseeing, having picnics, and attending some kids events in Sydney. Some of the famous Sydney attractions to visit are the Sydney Harbour Bridge, Sydney Opera House, and some notable parks like the Hyde Park and Royal national Park. Zoos and adventure parks are also some of the kids? favourite places to visit! During the Spring you can bring your kids to the Sydney Children?s Festival, Australia?s largest arts-based kids festival.
Sports Camps
Sports is significant in Sydney?s culture. Get your kids to attend school holidays camps in Sydney! Some of the most popular sports in the region that they can learn and practise are rugby, soccer, AFL, cricket, basketball, and netball. Multisports camps are ideal for kids who want to try different kinds of sports; but there are also camps that specialise in a specific sport. Most sports camps accept children aged 6 to 16 years.
Workshops
If your kids are not that much into sports, they can attend some other camps like indoor workshops. They can choose from acting, dancing, or music workshops to arts and crafts workshops.
Beaches
Of course, you can?t have a true Australian experience without heading to the beaches! Enjoy some water sports like surfing, kayaking, canoeing, or just plain swimming at the beautiful white sand beaches of Sydney, Bondi Beach and Manly Beach, among the most popular. They both have a rock pool which is safe for kids and the whole family.
For a comprehensive list of all the coolest and most enjoyable school holiday activities for kids in Sydney, you can visit our ActiveActivities directory. It also contains details and schedules so your kids won?t miss out on the activities. You can also find in the directory a lot of activities for kids for all occasions.
Sydney, being the busiest city in Australia, has a lot of things to offer to everyone, including the kids. School holidays can be the only time for kids to do exciting things. Get them moving! Start planning!
Articles related to your search: