Remote Control Toys For Kids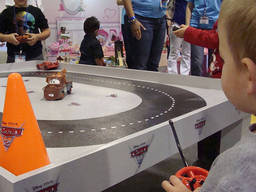 Remote control toys, also known as RC toys, first became popular in Germany during the 1960s. They are also called radio control cars because radio signals are used to control the cars' movement. There are two types of remote control toys: wired and wireless. The wireless ones are more popular as they allow the toy more freedom to move. Most are battery-powered, but there are also electric remote control toys. Over the years, remote control toys have become popular among kids in Australia and all over the world.
A video of Remote Control Toys For Kids
Remote control toys are great gift ideas for kids. See how much fun they're having with these two remote control trucks they received from their uncle.
Information about Remote Control Toys For Kids For Kids
Why playing with remote control toys is a great activity for your kids?
Kids, especially infants and toddlers, are often fascinated with things that move. It is because they are in a stage when they are developing motor skills. They observe how people, animals, and things move, and they try to imitate them. Kids love toys; they love them even more if they are remote-controlled. For kids of every age, there are remote control toys that are designed for them. Even adults love remote control toys. In our high-tech world, these technologically-advanced toys make the perfect gifts. They have cool features that get better every time a new model comes out. Your tech savvy kids will surely love them!
You may perceive remote control toys as just some gadgets for kids, and playing them is just a hobby or pastime. But did you know that like other activities for kids, playing with remote control toys also helps in child development?
Hand-eye coordination
Controlling the direction of movement with the remote while watching where the toy goes helps develop good hand-eye coordination and reflexes. The lights and sounds also help stimulate the senses.


Science and technology
Remote control toys could stir up your kid's interest in science and technology. They can study how gears work, how the handheld controller operates, and how the radio frequency gets transmitted from the controller to the antenna. Some remote control toys are sold with the parts separated so kids can learn to assemble them on their own.


Directions
Remote control toys are ideal toys for learning directions. The remote control have directional arrows or labelled buttons that kids can push for the toy to go left, right, backward, or forward. Latest models of remote control toys can also do flips, spins, among other movements.


Outdoor Activity
Playing with remote control toys is a good way to get your kids off the television and get them to play outside and breathe some fresh air.
Remote control toys are suitable for kids starting 3 years old as it is the age when they start to have better control of their movements. Remote control toys used to be considered as toys for boys only, but some manufacturers have started producing remote control toys that girls can also enjoy. Remote control or RC toys come in different kinds. Among them are:
RC cars
RC boats
RC planes
RC helicopters
RC robots
Playing with remote control toys can also be an activity that the whole family can enjoy. It can be a family hobby and a great way to spend some quality time together. They come in different sizes and levels of advancement that are suitable for kids of every age. Toy grades are for the little ones, while the hobby grades are for the bigger kids. Toy grades tend to be cheaper. They are already assembled when you buy them from hobby stores, all you need is a battery and they're ready to go. Hobby grades on the other hand can be more expensive and sturdier. They come in parts that need to be assembled making it more complicated than toy grades. Remote control toys can cost from $50 to $1000. But online hobby shops offer good deals and allow haggling.
When choosing which remote control toy to buy for your kid, compare prices and brands first. It is also important to know their interests. The most popular remote control toys are RC cars, but they might prefer the boats or the planes. They might even join a remote controlled cars club in their area! Check the boxes if they have safety labels. Some toys have hazardous chemical paints, harmful edges, or small pieces that kids might swallow.
Not sure if they will like remote control toys? If they like playing racing video games, then they might love remote control cars. Otherwise, there are still plenty of other toys to choose from. There are regular toy vehicles that little kids can play with if you think that the remote controlled ones are too complicated for them.
You can visit our ActiveActivities Directory for more ideas about toys for kids and other kids activities.
In this age of video gaming and online surfing, remote control toys will give kids a break from TV and computer screens. Give them remote control toys and you will never regret it. A good combination of learning and playing!
Articles related to your search: