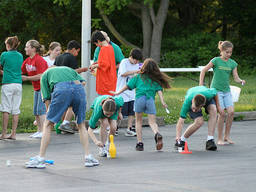 Get to know the different kinds of games suitable for your kids!
Games come in different forms. Kids just need an active imagination, and they can create games out of anything. Games involve competition, rules, endeavours of one person or team against another, and scores being kept for recognition or a prize. Common types of games are board games, card games, and video games. There may be educational video games, but it is still more recommendable for kids to play games that will motivate physical activity and personal interaction. Encourage your kids to play educational kids games!
A video of Games For Kids
Freeze tag is a perfect game for kids to burn off energy. They can play this game indoors or outdoors.
Information on Games for Kids
Are games for your kids?
Most childhood educational programs are incorporated with fun games for kids to enjoy while learning. There are at least 4 general types of games:
Finite Games - finite games are played for the purpose of winning
Infinite Games - infinite games are played for the purpose of continuing to play
Cooperative Games - they emphasise participation, challenge, fun, and interaction rather than competition
Initiative Games - they are problem-solving games used to demonstrate and teach leadership skills
Games are played for entertainment, but there is always something you can learn from games, either from the experience of playing the game or from the game itself. Do you know why we need to play games?
Playing is inherent and essential to every human existence. Through playing, kids can connect to their peers. It is also a source of calmness and relaxation, as well as a source of stimulation for the body and brain. Playing is important to our physical and mental health, and it helps us manage emotions and experiences, especially the negative ones. The following are some more reasons we play games:
To learn
To feel challenged
To pass time and relax
To have fun
Games don't just help kids learn. Aside from being leisure activities for kids, games also provide lifelong benefits.
Connection to others
It's so much better if we share the laughter and joy with others. Playing games together promotes bonding and a sense of community. Kids develop empathy, trust, and intimacy by playing games with their friends.
Fostering creativity, flexibility, and learning
Games stimulate imagination and help solve problems. They arouse curiosity, which leads to discovery. The components of playing are the same as the components of learning.
Solution to loneliness
Playing helps lift children's spirits and distracts them from stress, fear, and other burdens. Playing with other people also reminds them that they are not alone.
Perseverance
Learning something, new or mastering a skill is almost like winning a game. It gives kids a sense of achievement and teaches them perseverance to achieve their goals.
We can choose games to meet any purpose. You want to teach your kids a new skill in a fun way? Teach them cooking with cooking games or perhaps reading and shapes recognition through colourful flash cards. There are also games for every type of kid. Is your kid the adventurous type? Then outdoor games are for them. Outdoor games include relay races, scavenger hunts, and games that will allow them to interact with nature. Indoor games, on the other hand, are for kids who prefer the indoors are unwell and for inclement weather . They are also for kids who are too young to be left alone outside. Some indoor games are also ideal for classroom activities. A kid's birthday party would not be fun and complete without party games. The best kid's birthday party ideas are always those with fun games. Some of the most popular kids games from Australia include "Duck, Duck, Goose", "What's the Time Mr. Wolf?" and "Stuck in the Mud."
Feel free to visit our ActiveActivities Directory for more games ideas and other kids activities.
Playing games is an important part of growing up. Make learning fun with games!
Articles related to your search: